Paddy Chayefsky
(1923-1981)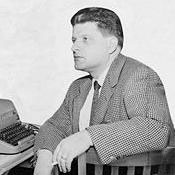 Sydney Aaron Chayefksi was born in the Bronx, New York in 1923 to Ukrainian Jewish parents. He attended Dewitt Clinton High School, the City College of New York, graduating with a degree in accounting. Chayefsky then studied languages at Fordham University. He joined the U.S. Army during World War II, where he received both a Purple Heart and the nickname Paddy.
Serving in the 104th Infantry Division, Chayefsky was near Aachen, Germany when he was wounded, reportedly by a land mine. Recovering from his injuries in the Army Hospital near Cirencester, England, he wrote the book and lyrics to a musical comedy, No T.O. for Love. First produced in 1945 by the Special Services Unit, the show toured European Army bases for two years. The London opening of No T.O. for Love at the Scala Theatre in the West End marked the beginning of Chayefsky's theatrical career. During the London production of this musical, Chayefsky encountered Joshua Logan, a future collaborator, and Garson Kanin, who invited Chayefsky to join him in working on a documentary of the Allied invasion, The True Glory.
Kanin enabled Chayefsky to spend time working on his second play, Put Them All Together (later known as M is for Mother), but it was never produced. Chayefsky was married to Susan Sackler in February 1949, and their son Dan was born six years later. Despite an alleged affair with Kim Novak, Paddy and Susan Chayefsky remained together until his death.
In the late 1940s, Chayefsky began working full time on short stories and radio scripts, and during this period, he was a gagwriter for radio host Robert Q. Lewis.
His writing for television began with a 1949 adaptation of Budd Schulberg's What Makes Sammy Run? for producer Fred Coe's The Philco Television Playhouse, followed by an episode of Danger (1952) and an episode of The Gulf Playhouse (1953).
Chayefsky gained the reputation as the pack leader of kitchen sink realism on television. Between 1949 and 1955, he delivered a dozen teleplays to Coe, including The Bachelor Party and The Catered Affair.
Following the Philco years, Chayefsky's The Great American Hoax was seen May 15, 1957 during the second season of The 20th Century Fox Hour. In recent years, The Great American Hoax received showings on the FX channel.
Chayefsky's screenplay for Marty was turned into a film two years later, starring Ernest Borgnine in the lead role. The movie won the Academy Award for Best Picture. Chayefsky's work on that and other teleplays inspired comparisons with Arthur Miller, and he received an Academy Award for his work on the screenplay.
He focused on screenplays after the success with Marty and received an Oscar nomination for his writing of The Goddess.
In the 1960s his writing credits included The Americanization of Emily and Paint Your Wagon. He went on to win two more Oscars for his work on The Hospital (1971) and Network (1976). For both of these films Chayefsky also received Golden Globe awards. Chayefsky received an Academy Award for Network for Best Original Screenplay.
Chayefsky continued to write for the Broadway stage until the late 1960s. After the theatrical version of Middle of the Night opened on Broadway in 1956, its success led to a national tour. The Tenth Man (1959) marked Chayefsky's second Broadway success, garnering Tony nominations in 1960 for Best Play, Best Director (Tyrone Guthrie) and Best Scenic Design. Chayefsky's final Broadway production, a play based on the life of Joseph Stalin, The Passion of Josef D, was poorly received and ran for only 15 performances.
His fiction includes the novel Altered States (HarperCollins, 1978), for which he spent two years in Boston doing research. His last screenplay was based on this book.
Chayefsky died in New York City of cancer in August 1981 at the age of 58, and was interred in Kensico Cemetery in Valhalla, Westchester County, New York.
---
Sources: Wikipedia