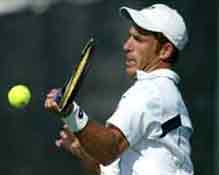 Noam Behr is a left-handed player from
Israel
who turned pro in 1993. He achieved his highest singles ranking in October, 2001 (No. 127) and his highest doubles ranking in October, 1999 (No. 109). He is currently ranked No. 619 in singles and No. 516 in doubles (as of July 8, 2004). Behr competed in the qualifying tournament at Wimbledon in 2003, and lost in the first round to Tuomas Ketola of
Finland
, 2-6, 6-4, 4-6.
Noam has achieved the majority of his success as a doubles player. In 2000, he competed in doubles in three Grand Slam events, the Australian Open, French Open, and U.S. Open, losing in the first round in all three tournaments. In 2001, Noam and his partner, Eyal Ran (also of Israel), also competed in Wimbledon and the French Open (losing in the first round of both events).
In mid-July 2002, Noam reached the singles finals of the Seascape Challenger Tournament -- while fellow Israelis Harel Levy and Noam Okun reached the doubles semifinals, and Israeli Amir Hadad and his partner Martin Vassallo Arguello won the doubles final! At the 2002 U.S. Open, Behr was eliminated from the competition in the second round of qualifying by fellow Israeli, Noam Okun, 6-4, 7-6 (7-3).
Beher and his Czech partner Otta Pokarek won the annual Gratz doubles tournament held in Austria. They beat Brash and Landsberg in the final, 6-3, 6-2. The winning duo was seeded fourth in the tournament. Noam also competed at Gratz in singles play, but was eliminated in the first round.
At the Belgrade competition Noam enjoyed one of his best singles tournaments in his career in February 2004. He beat American Kile Sherry 6-2, 6-2 in the first round. Switzerland's George Bastl proved a high hurdle but was dispensed 7-6(4) 6-4. In the quarterfinals, Behr beat Bulgarian Todor Enev 6-1, 7-5 before falling to Marco Chiudinelli 1-6, 2-6 in the semis. The run sent him up 83 places in the ATP rankings.
---
Sources: Jews in Sports; Photo Jeff Davies, courtesy of ProPix.info