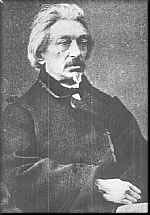 Moses Hess was a Jewish philosopher and socialist, and one of the founders of Labor Zionism.
Hess was born on June 21, 1812 in Bonn to an orthodox Jewish family. He received a traditional Jewish education but as an autodidact learnt German and French as a means to secular learning.
Initially, Hess was a utopian socialist but following his acquaintance with Karl Marx he moved toward a more scientific determinist understanding. Hess contributed toward Marx's Communist Manifesto written in 1848, in particular the term religion as the opium of the masses.
Following the unification of Italy, the rise of nationalism in that country and the emergence of German anti-Semitism, Hess returned to his Jewish roots. His booklet Rome and Jerusalem: The Last National Question, written in 1862, is evidence of this change. However, his proposed Jewish state was to be socialist in nature.
Hess died in Paris on April 6, 1875. Although he was buried at his request in the Jewish cemetery in Cologne, his remains were transferred to Israel in 1961 where they were buried in the Kinneret cemetery alongside other Socialist-Zionists such as Nahum Syrkin, Ber Borochov, and Berl Katznelson.
---
Sources: Geoffrey Wigoder ed., New Encyclopedia of Zionism and Israel,  (Associated University Press,  1994).
The Jewish Agency for Israel and The World Zionist Organization.