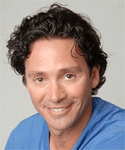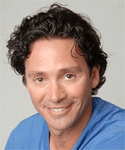 Born in Los Angeles, Mitch Gaylord first thrilled the world in 1984 when he led the United States Olympic gymnastics team to its Gold Medal victory. In addition to being the first American Gymnast in history to score a perfect "10," Gaylord went on to capture a Silver medal for Vaulting and two Bronze medals for Rings and Parallel Bars. Gaylord saw his first international competition at the 11th Maccabiah Games in l981, dominating the gymnastics events and winning six gold medals. His brother, Chuck, who took top honors in the Vault, won the only gold medal he did not win. Mitch Gaylord won the silver medal.
As the number one ranked gymnast in 1983 and 1984, Gaylord invented two skills now named internationally after him. To this day, the Gaylord Flip and the Gaylord Two are considered two of the most difficult and spectacular feats in gymnastics.
After the Olympics, Gaylord was appointed to the President's Council for Physical Fitness by Ronald Reagan. During this time, he fulfilled numerous speaking engagements, endorsements and appearances across the country. In 1986, Gaylord made his acting debut in Columbia Pictures' "American Anthem." In 1988, he hosted his own television series "Fan Club," and went on to appear in several commercial advertisements including Levi's, Diet Coke, Nike, Vidal Sassoon, Soloflex and Texaco.
In 1995, Gaylord was inducted into UCLA's Hall of Fame. At the 1996 Centennial Olympic Games in Atlanta, Gaylord served as a journalist/broadcaster and in 2006, he was inducted into the US Olympic Hall of Fame.
Gaylord has served as a journalist/broadcaster, a motivational coach and a fitness expert. His passion for health and wellness led to his founding of Mitch Gaylord's Gold Medal Fitness and the creation of the Perfect 10 Workout.
In 2009, Gaylord traveled to Israel and was inducted into the International Jewish Sports Hall of Fame in the 30th edition of the ceremony, alongside US Olympic swimmer Jason Lezak and nine others at the Wingate Institute, at the 18th Maccabiah Games.
Gaylord currently resides in Southern California with his wife, Valentina, and their three children.
---
Sources: International Jewish Sports Hall of Fame; Jerusalem Post; Sports Stars USA, Valentina Gaylord