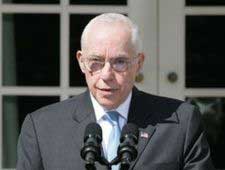 Michael Mukasey is a Jewish American lawyer who served as the 81st Attorney General of the United States.
Mukasey was born in the Bronx, New York in 1941. In 1959, he graduated from the Ramaz School, a Modern Orthodox Jewish preparatory school in Manhattan. Mukasey received a B.A. from Columbia University in 1963. While at Columbia. he served as the Editorials Editor of the Columbia Daily Spectator. Mukasey completed his LL.B. at Yale Law School in 1967. He spent four years as an Assistant United States Attorney in the federal prosecutor's office where he worked with future New York mayor and U.S. Presidential candidate Rudolph Giuliani. In 1976, he joined the New York law firm of Patterson Belknap Webb & Tyler, to which he returned after retiring from the U.S. District Court. In 1987, Mukasey was nominated by President Ronald Reagan as a federal district judge for the Southern District of New York in Manhattan. He served as Chief Judge from March 2000 through July 2006. Mukasey began teaching at Columbia Law School in 1993, and has taught there every spring semester since.
During his tenure on the bench, Mukasey presided over a number of high-profile cases, including the criminal prosecution of Omar Abdel Rahman and El Sayyid Nosair, whom he sentenced to life in prison for their role in a plot to blow up the United Nations and other Manhattan landmarks. Mukasey also heard the trial of Jose Padilla, ruling that the U.S. citizen and alleged terrorist could be held as an enemy combatant but was entitled to see his lawyers. He also presided over the litigation between developer Larry Silverstein and several insurance companies, arising from the destruction of the World Trade Center.
In June 2003, Senator Charles Schumer (D-NY) suggested Mukasey's name, along with the names of four other Republicans, to President Bush as worthy nominees for the U.S. Supreme Court. In June 2006, Mukasey retired from the bench and returned to Patterson Belknap Webb & Tyler.
President George W. Bush nominated Mukasey for U.S. Attorney General on September 17, 2007. On November 8, 2007, Mukasey was confirmed by the Senate and officially became the 81st Attorney General of the United States. Mukasey was succeeded in the position by Eric Holder on January 20, 2009.
---
Sources: Wikipedia