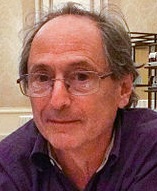 Michael Levitt is an Israeli-American biophysicist and Nobel Laureate in Chemistry.
Born in Pretoria, South Africa, to a Jewish family that had relocated from Plunge, Lithuania, Levitt graduated from a primary Jewish day school. He earned a BS in physics in 1967 from King's College London and did his doctoral work in computational biology at the Cambridge University in England.
During his graduate studies, Levitt developed computer programming for the study of molecule formations, which has served as the foundations of his later scientific research. Starting in 1967, he went to Jerusalem, Israel, to work with an Israeli professor at the esteemed Weizmann Institute of Science. There Levitt also collaborated with Arieh Warshel who was based at the Technion in Haifa.

Levitt has taught at Weizmann and Stanford University in California and is Robert W. and Vivian K. Cahill Professor in Cancer Research at Stanford's School of Medicine.
He is a prioneer in conducting molecular dynamic simulations of deoxyribonucleic acid (DNA) and proteins. Levitt created useful simplified representations of protein structure for the purpose of analyzing the protein functions of folding and packing, and has developed systems to score the comparison of huge sequence and structures of proteins and other cell components.
In 2013, the Swedish Academy awarded Levitt and his colleagues, Warshel and Martin Karplus, the Nobel Prize in Chemistry "for the development of multiscale models for complex chemical systems."
---
Sources: Stanford School of Medicine, Wikipedia.