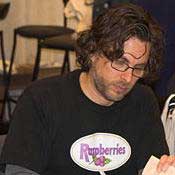 Michael Chabon was born in Washington, D.C., to Robert Chabon, a physician and lawyer, and Sharon Chabon, also a lawyer. He was raised in the Jewish faith. Chabon said he knew he wanted to be a writer when, at the age of ten, he wrote his first short story for a class assignment. His parents divorced when Chabon was eleven, and he grew up in Pittsburgh, Pennsylvania, and Columbia, Maryland.
Chabon attended Carnegie Mellon University for a year before transferring to the University of Pittsburgh, where he received a Bachelor of Arts degree in 1984. He then went to graduate school at the University of California, Irvine, where he received a Master of Fine Arts degree in creative writing.
Chabon's first novel, The Mysteries of Pittsburgh, was written as his UC-Irvine master's thesis. Without telling Chabon, his professor, Donald Heiney, sent it to a literary agent, who got the author an impressive $155,000 advance on the novel. The Mysteries of Pittsburgh appeared in 1988 and became a bestseller, instantly catapulting Chabon to the status of literary celebrity.
In 1987, Chabon married the poet Lollie Groth. He and Groth divorced in 1991, and he married the writer Ayelet Waldman in 1993. They currently live together in Berkeley, California with their four children.
In 1991, Chabon published A Model World, a collection of short stories, many of which had been published previously in The New Yorker.
In 2002, Chabon published Summerland, a fantasy novel written for younger readers that received mixed reviews but sold extremely well, and won the 2003 Mythopoeic Fantasy Award. Two years later, he published The Final Solution, a novella about an investigation led by an unknown old man, whom the reader can guess to be Sherlock Holmes, during the final years of World War II. He published his Dark Horse Comics project The Amazing Adventures of the Escapist, a quarterly anthology series from 2004 to 2006. It was awarded the 2005 Eisner Award for Best Anthology and a pair of Harvey Awards for Best Anthology and Best New Series.
In late 2006, Chabon completed work on Gentlemen of the Road, a 15-part serialized novel that ran in The New York Times Magazine from January 28 to May 6, 2007. Just before Gentlemen of the Road completed its run, the author published his latest novel, The Yiddish Policemen's Union, which he had worked on since February 2002. It is a detective story that imagines an alternate history in which Israel collapsed in 1948 and European Jews settled in Alaska, the novel was released on May 1, 2007 to enthusiastic reviews, and spent six weeks on the New York Times Best Seller list.
McSweeney's published Maps and Legends, a collection of Chabon's literary essays, on May 1, 2008.
In October 2004, it was announced that Chabon was at work writing Disney's Snow and the Seven, a live-action martial arts retelling of Snow White and the Seven Dwarfs to be directed by master Hong Kong fight choreographer and director Yuen Wo Ping. In August 2006, Chabon said that he had been replaced on Snow and the Seven.
Although Chabon is uninvolved with the project, director Rawson Marshall Thurber shot a film adaptation of The Mysteries of Pittsburgh in fall 2006. In February 2008, Scott Rudin reported that a film adaptation of The Yiddish Policemen's Union was in pre-production, to be written and directed by the Coen Brothers.
Chabon's work is characterized by complex language, frequent use of metaphor, and an extensive vocabulary, along with numerous recurring themes, including nostalgia, divorce, abandonment, fatherhood, and issues of Jewish identity. He often includes gay, bisexual, and Jewish characters in his work.
---
Sources: Wikipedia