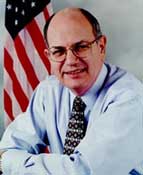 Martin Frost is a Jewish American politician who was the first Jewish congressman elected to a House of Representatives leadership post.
During his tenure spanning three decades in the U.S. House of Representatives, Congressman Frost has occupied a number of positions of responsibility.  Additionally, he devoted substantial time to national defense issues and matters affecting economic development of his home state of Texas.
Congressman Frost became the first Jewish chair of the Democratic Congressional Campaign Committee (DCCC) in January 1995, a position he held until December of 1998.  He was the second ranking Democrat on the House Rules Committee at the time. In 1998, he became the first Jewish member of Congress in history to win an elected party leadership position.
Congressman Frost is the son of an aerospace engineer and has a long-standing interest in national defense matters.  He was the principal author of defense conversion legislation passed by the House in 1992 and headed a special House task force to deal with defense conversion issues.  He has been presented the National Security Leadership Award by the American Security Council for his work on defense and foreign policy issues.
Congressman Frost has also taken a strong stand against crime by winning passage of the Amber Hagerman Child Protection Act.  Congressman Frost authored this legislation in response to the kidnapping and murder of a nine-year-old girl from Arlington, Texas.  The bill was designed to protect our nation's children from sex offenders.  The legislation created a "Two Strikes" law which mandates life in prison after a second sex offense against a child.
Congressman Frost has been involved in a number of issues affecting the North Texas area.  These include expansion of the Dallas/Fort Worth Airport, the second busiest airport in the United States, funding for development of the V-22 Osprey at Bell Helicopter in Fort Worth and construction of the Dallas Area Rapid Transit (DART) light rail system.
Additionally, Congressman Frost was one of the leaders in the effort to keep the General Motors plant in Arlington, Texas, open and has taken the lead in securing funding for the construction of a new national veterans cemetery in the Oak Cliff section of Dallas.  Additionally, Congressman Frost was instrumental in winning federal approval for a new highway interchange at I-30 and Cockrell Hill which will help create 5,000 new jobs as part of the Pinnacle Park development.
Frost grew up in Fort Worth, where he graduated from Paschal High School.  He received both Bachelor of Journalism and Bachelor of Arts in History degrees from the University of Missouri in 1964 and his law degree from the Georgetown Law Center in Washington, D.C. in 1970.
Prior to entering law school, Congressman Frost worked as a newspaper and magazine reporter and was a staff writer for the Congressional Quarterly Weekly Report.  Following graduation from Georgetown, he served as a law clerk for Federal Judge Sarah T. Hughes of the Northern District of Texas and practiced law in Dallas until his election in 1978.
Frost was a delegate to the Democratic National Conventions of 1976, 1984, 1988, 1992 and 1996, and was reelected to his 11th term in 1998 with 58% of the vote. He served two terms as the chairman of the House Democratic Caucus from 1999 to 2003, which is the number three post in the Democrats' House leadership after the minority leader and minority whip.
Congressman Frost is descended from two prominent old Texas families.  His mother's family settled in Rusk County in East Texas more than a hundred years ago.  His maternal grandfather, M. H. Marwil, served as Mayor of Henderson, Rusk County, and his uncle, Charles Brachfield, was Rusk County Judge and a state senator.  His paternal grandfather, Joe Frost, was one of San Antonio's leading merchants and founder of Frost Brothers Department Store there.
After his 26-year tenure in Congress, Frost is an attorney with the law firm of Polsinelli & Shughart.
---
Sources: Congressman Martin Frost; Jewish Telegraphic Agency (November 16, 1998)