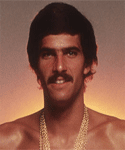 Mark Spitz is a Jewish American swimmer and eleven-time Olympic medalist, including a then-record seven golds at the 1972 games.

Mark Spitz has won seven gold medals and established many world records for swimming. At the 1972 Olympic Games in Munich, Germany, terrorists murdered eleven Israeli athletes and the world was elated over Spitz's achievements in swimming and simultaneously stunned and angered by the cold-blooded murder of the Jewish athletes. At those Munich summer games, American security guards quickly formed a shield of protection around Spitz since they were fearful that the terrorists might strike at him because he is Jewish. Spitz was angry and saddened by the loss of the Israeli athletes. However, he was too stunned and protected to do anything symbolic against the terrorists.

Spitz was the oldest of three children and was born on February 10, 1950. His parents, Lenore and Arnold Spitz, introduced him to swimming as soon as he could walk. When he was two years old, his father, a steel company executive, was transferred to Honolulu, Hawaii. Spitz swam at Waikiki Beach every day. "You should have seen that little boy dash into the ocean. He'd run like he was trying to commit suicide." Lenore Spitz told a reporter for TIME (April 12, 1968).

After a few years. the family moved back to California. Spitz's father was always teaching him about the importance of being first. At the age of 15, at the Maccabiah Games in Tel Aviv in August 1965, Spitz won four gold medals and was named the most outstanding athlete. This was the beginning of his long list of victories. By the spring of 1972. Spitz had set 23 world swimming records and 3 5 United States records. He won two gold medals, one silver medal and one bronze medal in the 1968 Olympics. Many expected him to do better, but a bad cold had prevented him from doing so.

Spitz set his first world record in June of 1967 at a small swim meet in California. He swam the 400 meter free-style in four minutes, 10 and six-tenths seconds. After this meet, he went on to other meets. His list of swim records became larger and larger.

Spitz won his first gold medal in the 200 meter butterfly in two minutes and seven-tenths of a second for a world record at the Munich Olympic Games on August 28. 1972. That same night, lie won a second gold medal when his team established a. world record for the 400 meter free-style relay The following day, he won his third gold medal. Again, he established a world record when he swam the 200 meter free-style in one minute and 52.78 seconds.

He swam the 100 meter butterfly in 54.27 seconds to earn a world record and a gold medal on September 1. He then went on to anchor the United States 800 meter free-style relay team to victory for another gold medal. He won the 100 meter free-style in 51.22 seconds and swam the butterfly leg on the victorious United States team in the 400 meter medley relay for his seventh gold medal on September 3. He set another world record with his seven gold medals when he surpassed the record held by Italian fencer Nedo Nadi, who had won five Olympic gold medals in 1920.

After the '72 Olympics, Spitz started making movies and commercials and later went into business. He lives in California with wife Suzy and their son.
---
Sources: Photo from Mark Spitz official website; This biography is one of the 150 illustrated true stories of American heroism included in Jewish Heroes & Heroines of America : 150 True Stories of American Jewish Heroism, © 1996, written by Seymour "Sy" Brody of Delray Beach, Florida, illustrated by Art Seiden of Woodmere, New York, and published by Lifetime Books, Inc., Hollywood, FL.