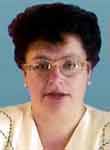 Marina Solodkin was born in Moscow in 1952 and immigrated to Israel in 1991. She holds a Ph.D. in Economic and Social History from Moscow University. She is a member of the Organization of Immigrant Scientists.
First elected to the Knesset in 1996, she has served as a member of a wide range of Knesset committees, including: House, Internal Affairs and Environment, Constitution, Law and Justice, Immigration and Absorption Committee, Anti-Drug Abuse, as well as the Committee for the Advancement of the Status of Women, which she chaired in the 14th Knesset. In addition, she served as a member of the Parliamentary Inquiry Committees for the Location and Restitution of Property of Holocaust Victims and on the Trading of Women.
From August 1999 until July 2000, she served as Deputy Minister of Immigrant Absorption.
Solodkin is the author of the Dictionary of Economic History, Moscow, 1995 (in Russian), Civilization Discomfort: Soviet Jewry in Israel in the 90's, Tel Aviv, 1996 (in Russian), "Not another Generation of the Wilderness" (Hebrew), as well as articles in the Hebrew and Russian press.
In March 2005, Marina Solodkin was appointed Deputy Minister of Immigrant Absorption.
She is married and the mother of two.
---
Sources: Israeli Ministry of Foreign Affairs