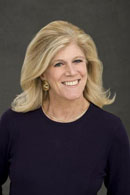 Lynn Sherr is an American broadcast and print journalist best known for being a regular correspondent on the ABC News program 20/20. She was born in Philadelphia Pennsylvania on March 4 1942 into a Jewish family and attended Hebrew School as a young girl. Her father played basketball on the Pennsylvania team for the American Basketball League (the NBA's precursor) and she was very active in sports from a young age.
Sherr attended Wellesley College, a women's liberal arts school in Wellesley Massachusetts, and recieved her Bachelors degree. After college she started her career in journalism working as a freelance television host in New York City, and then began work at the Associated Press and CBS. She began work at ABC News in 1977 where she recieved her "big break" and was featured as a regular correspondent during multiple news programs. She was a part of the ABC News political team during every election between 1977 and 2000. During her time at ABC News she reported on science, social change, and women's issues, including the NASA space shuttle program and the Challenger explosion in 1986.
In May 1986 Sherr joined the ABC News program 20/20 and entered millions of American households every week with eye-opening stories. Her most memorable stories include a report from 2000 about a homeless girl from New York city who earned a scholarship to Harvard University, an interview with Princess Diana's ex lover James Hewitt, and coverage of a 67 million year old Tyranosaur skeletion nicknamed "Tyranosaurus Sue". Sherr has won numerous Peabody Awards for her coverage of the turn of the milenium in New Dehli and a 1994 story that aired on 20/20 about extreme annorexia.
Lynn Sherr is an active feminist and has recieved two Planned Parenthood Federation of America Margaret Sanger Awards. These awards, nicknamed "Maggies" are given to journalists who display exceptional coverage of women's rights and health issues. She has also been the recipient of a Front Page Award for her piece illustrating how breast cancer victims are fighting for government research funds; an Excellence in Financial Journalism Award for her segment on Continental Can's secret plan to fire employees before they could collect their pensions; and a Gold Award from the National Mental Health Association for a report on a controversial new drug for schizophrenia. She received a Matrix Award from the New York Women in Communications in 1990. She also won an Emmy award for her election coverage in 1980.
She is the author of seven books, including two about Susan B Anthony, one about Sally Ride, and a memoir titled Outside the Box: A Memoir. Her book Tall Blondes offered an interesting and award winning prospective on giraffes and was made into a one hour PBS documentary. Currently she is a contributing writer for many publications including magazines More and Parade, as well as the online news magazine The Daily Beast. She is the commissioner for the New York City Commission on Women's issues and frequently tours the country for speaking engagements and appearances.
---
Sources: The American Program Bureau, ABC News