Konrad Bloch
(1912 - 2000)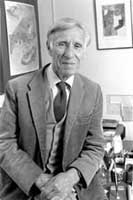 Konrad Emil Bloch was a Jewish German-American biochemist who was awarded the 1964 Nobel Prize in Medicine.
Bloch was born on January 21, 1912, in Neisse, Germany. In 1930, he entered the Technische Hochschule in Munich to study chemistry, obtaining the and accepted a postion at the Schweizerische Forschungsinstitut in Davos, Switzerland, before moving to the United States in 1936.
In America he enrolled at Columbia University and received a Ph.D. in biochemistry in 1938. He taught at Columbia from 1939 to 1946. From there, he went to the university of Chicago and then to Harvard University as Higgins Professor of Biochemistry in 1954, a post he held until his retirement in 1982.
In 1964, he received the Nobel Prize in Medicine, along with Feodor Lynen, for their discoveries concerning the mechanism and regulation of the cholesterol and fatty acid metabolism. Besides winning the Nobel Prize, he has also been the recipient of the Fritzsche Award from the American Chemical Society (1964) and the Cardano Medal from the Lombardy Academy of Sciences (1965). He was also a member of the American Chemical Society, National Academy of Sciences U.S., and the American Academy of Arts and Sciences.
Bloch died on October 15, 2000, in Burlington, Massachusetts.
---
Sources: Wikipedia; Nobel Prize. Picture courtesy of: The Harvard University Gazette