Ismail Haniyeh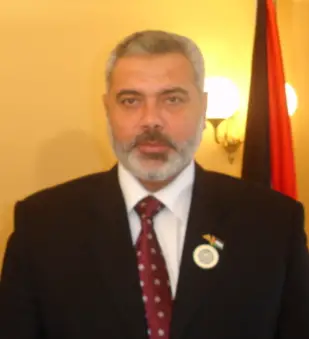 (1955- )
---
Dr. Ismail Haniyeh, 50, held the top seat on Hamas' list of candidates in the 2006 Palestinian parliamentary elections. Haniyeh, in conjunction with Dr. Mahmoud al-Zahar, was responsible for leading Hamas in the West Bank and Gaza Strip after the death of Sheikh Ahmad Yassin. He had served as bureau chief for Yassin, but was given a higher leadership position after Yassin's death. Haniyeh was one of the leading figures who urged Hamas to form a party list and participate in the Palestinian elections, and was the top seat in both the municipal and parliamentary elections.
Like many other terrorist leaders, Haniyeh was targeted by the IDF for assassination for his roles in terrorist attacks against Israeli citizens. In 2003, following a suicide bombing on a bus in Jerusalem, the Israeli air force dropped a bomb on a house in Gaza in an assassination attempt of Haniyeh, Yassin, and bombmaker Mohammad Deif; all three escaped unscathed..
Haniyeh was born in the Shati refugee camp in the Gaza Strip, although the exact date of his birth is unknown. He began studying Arabic literature at the Islamic University in Gaza in 1987, where he became active in Islamic student movements. In 1992, he was deported to Lebanon along with 400 other Hamas activists, but was eventually allowed to return to Gaza. Upon his return, he was appointed dean of the Islamic University, and became the leader of Hamas' student movement.
Haniyeh has always favored violence over diplomacy, and said the Hamas' wins in the municipal elections in 2005 were proof that the majority of Palestinians support terrorism against Israel. However, now that he is in a position of national responsibility, he has spoken about "resistance according to the interests of our people," which could mean that Hamas terrorism could be suspended while a settlement with Israel is negotiated. He also has expressed his wish to form a national unity government with former ruling party Fatah in order to more effectively run the new government.
---
Source: Arnon Regular, "Who's who in Hamas," Ha'aretz, (January 26, 2006); Gil Sedan, "Who's who in Hamas? A look at the Palestinian group's leaders," JTA, (January 30, 2006).