Eli Aflalo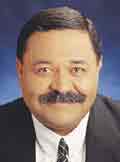 (1952- )
---
Eli Aflalo was born in Casablanca, Morocco in 1952 and immigrated to Israel in 1962. He completed his army service with the rank of staff sergeant.
Elected to the 16th Knesset in 2003, he served as a member of the Finance and Internal Affairs and Environment Committees.
In March 2005, Eli Aflalo was appointed Deputy Minister of Industry and Trade.
He has three children.
---
Source: Israeli Ministry of Foreign Affairs