Joseph Lieberman
(1942 - )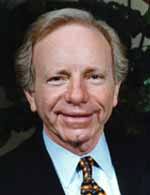 Joseph Lieberman is a Jewish American politician and author and a former U.S. Senator from Connecticut.
Lieberman (born February 24, 1942) was born into a Jewish working class family in Stamford, Connecticut. He received his bachelor's degree and his Law degree from Yale University.
In 1970, he was elected to Connecticut State Senate and served as majority leader from 1974 to 1980. From 1982 to 1988, he served as Connecticut's attorney general.
In 1988, Lieberman won his first election to the U.S. Senate, upsetting three-term liberal Republican Lowell Weicker. He was re-elected in 1994 in the biggest landslide victory in a Connecticut Senate race, receiving more than 67 percent of the vote. He won reelection as a Democrat again 2000.
On August 8, 2000, Lieberman was selected as Al Gore's vice presidential candidate, the first time in U.S. history that a Jew had been selected to run for the one of the two highest places in the U.S. political system. Though Gore and Lieberman lost the election to George Bush, history had been set.
In 2006, Lieberman lost the Democratic primary to Ned Lamont and ran in the general election as an Independent. He eventually won the election over Lamont with 49.7% of the vote while Lamont recieved just over 40%. Following that term, Lieberman retired from the Senate effective January 1, 2012.
Lieberman was alwasy a strong supporter of Israel in the Senate and co-sponsored the Jerusalem Embassy Act of 1995, calling on the President to move the American embassy from Tel Aviv to Jerusalem.
Lieberman is the author of a seven of books and lives in Connecticut with his wife Hadassah, a Czech-born daughter of a Holocaust survivor. Together they have one daughter Hannah; he also has a son and a daughter from a previous marriage and she has a son from a previous marriage. They have two granddaughters.
---
Sources: Senator Lieberman's office; Wikipedia