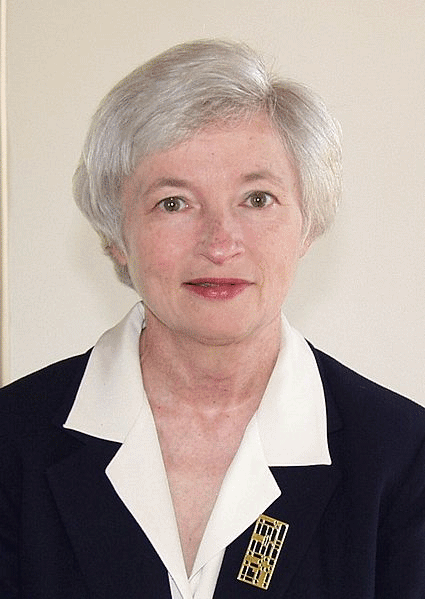 Janet Yellen was born in Brooklyn, New York on August 13, 1946. She graduated from Fort Hamilton High School and graduated summa cum laude from Brown University with a degree in economics in 1967. Yellen received her Ph.D. in economics from Yale University in 1971.
From 1971 to 1976, Yellen taught as an assistant professor at Harvard and from 1977 to 1978 she worked as an economist with the Federal Reserve Board of Governors.  In 1980, she began researching and teaching full time for the University of California, Berkeley's Haas School of Business.
Yellen served as chair of President Bill Clinton's Council of Economic Advisers from February 1997 to 1999, and was appointed as a member of the Federal Reserve System's Board of Governors from 1994 to 1997. From June 2004 until 2010, Yellen was the President and Chief Executive Officer of the Federal Reserve Bank of San Francisco.
On April 28, 2010, President Barack Obama nominated Yellen to succeed Donald Kohn as vice-chair of the Federal Reserve System and in July of that year she was confirmed by the Senate Banking committee in a vote of 17 to 6.
On October 9, 2013, President Obama nominated Yellen to succeed Ben Bernanke as Chair of the Federal Reserve.
On January 6, 2014, Yellen was confirmed by the Senate as Chairwoman by the narrowest vote margin ever for the position. In addition to becoming the first woman ever to hold the position, Yellen is also the third straight Jew as Chair following Ben Bernanke and Alan Greenspan and the first Democrat to hold the position since Paul Volcker in 1979.
Yellen served on the Federal Reserve until 2018. President Donald Trump nominated Jerome Powell to succeed her. Yellen then joined the Brookings Institution.
Following the 2020 election, Joe Biden announced he would nominate Yellen to be his Secretary of the Treasury. She would be the first woman to hold this position if confirmed by the Senate.
Yellen is married to George Akerlof, a Jewish Nobel Prize laureate in economics. They have one son.
---