James Horner
(1953 - 2015)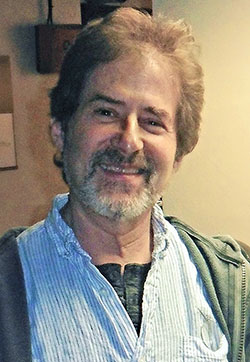 James Roy Horner was an American composer, conductor and orchestrator of film scores. He was known for the integration of choral and electronic elements in many of his film scores, and for frequent use of Celtic musical elements.

Horner was an accomplished concert hall composer before he moved into writing film scores. His first major film score was for the 1979 film The Lady in Red, but did not establish himself as a mainstream composer until he worked on the 1982 film Star Trek II: The Wrath of Khan. Horner's score for Titanic is the best selling orchestral film soundtrack of all time while Titanic and Avatar, both directed by James Cameron, are the two highest-grossing films of all time.

Horner collaborated on multiple projects with directors Don Bluth, Jean-Jacques Annaud, Mel Gibson, Walter Hill, Ron Howard, Joe Johnston and Terrence Malick. Horner composed music for over 100 films, and won two Academy Awards, two Golden Globe Awards, three Satellite Awards, three Saturn Awards and was nominated for three British Academy Film Awards.

Horner was born in Los Angeles in 1953, the son of Joan Ruth (Frankel) and Harry Horner, who was a set designer and occasional art-director. He had a brother, Christopher, who is a writer and documentary filmmaker. His family was Jewish. His mother was from Canada, and his father, who was born in Holíč, Czechoslovakia, moved to the United States in 1935.

Horner started playing piano at the age of five. His early years were spent in London, where he attended the Royal College of Music. He returned to America where he attended Verde Valley High School in Sedona, Arizona, and later received his bachelor's degree in music from the University of Southern California. After he earned a master's degree, he started work on his doctorate at the University of California, Los Angeles (UCLA), where he studied with Paul Chihara, among others. After several scoring assignments with the American Film Institute in the 1970s, he finished teaching a course in music theory at UCLA and subsequently turned to film scoring. Horner was also an avid pilot.

One of Horner's first major film scores was for the 1979 film The Lady in Red. He began his career scoring films by working for B film director and producer Roger Corman. Horner's first composer credit was for Corman's Battle Beyond the Stars. From there, his works gained notice in Hollywood, which enabled him to take on larger projects. Horner's major breakthrough came in 1982, when he had the chance to score the music to Star Trek II: The Wrath of Khan; the project established him as a mainstream composer. The film's director Nicholas Meyer quipped that Horner had been hired because the studio couldn't afford to use the first film's composer Jerry Goldsmith again, but by the time Meyer returned to the franchise with Star Trek VI: The Undiscovered Country, the director found that he couldn't afford Horner either.

Horner continued composing music for high-profile releases during the 1980s, including 48 Hrs. (1982), Krull (1983), Star Trek III: The Search for Spock (1984), Commando (1985), Cocoon (1985), Aliens (1986), Batteries Not Included (1987), Willow (1988), Glory and Field of Dreams (both 1989). Aliens earned Horner his first Academy Award nomination for Best Original Score in 1987, at the 59th Academy Awards. "Somewhere Out There", which he co-composed for An American Tail, was also nominated that year for Best Original Song. Throughout the 1980s, 1990s and 2000s, Horner wrote orchestral scores for children's films (particularly those produced by Amblin Entertainment), with credits for An American Tail (1986), The Land Before Time (1988), The Rocketeer and An American Tail: Fievel Goes West (1991), Once Upon a Forest and We're Back! A Dinosaur's Story (all in 1993), The Pagemaster (1994), and Casper, Jumanji, and Balto (all from 1995) and Mighty Joe Young (1998) and How the Grinch stole Christmas (2000).

Horner produced no fewer than six scores during 1995, including his commercially successful and critically acclaimed works for Braveheart and Apollo 13, both of which earned him Academy Award nominations. Horner's biggest financial and critical success would come with the score to the 1997 film Titanic. The album became the best-selling primarily orchestral soundtrack in history, selling over 27 million copies worldwide.

At the 70th Academy Awards, Horner won Oscars for Best Original Dramatic Score and Best Original Song for "My Heart Will Go On" (which he co-wrote with Will Jennings). In addition, Horner and Jennings won three Grammy Awards and two Golden Globe Awards for the soundtrack and My Heart Will Go On. Titanic also marked the first time in ten years that Horner worked with director James Cameron (following the highly stressful scoring sessions for Aliens, Horner declared that he would never work with Cameron again and described the experience as "a nightmare").

Since Titanic, Horner continued to score for major productions (including The Perfect Storm, A Beautiful Mind, Enemy at the Gates, The Mask of Zorro, The Legend of Zorro, House of Sand and Fog and Bicentennial Man). Aside from scoring major productions, Horner periodically worked on smaller projects such as Iris, Radio and Bobby Jones: Stroke of Genius. He received his eighth and ninth Academy Award nominations for A Beautiful Mind (2001) and House of Sand and Fog (2003), but lost on both occasions to Howard Shore. He frequently collaborated with film director Ron Howard, a partnership that began with Cocoon in 1985.

Horner composed the 2006–2011 theme music for the CBS Evening News. The theme was introduced as part of the debut of Katie Couric as anchor on September 5, 2006.

Horner recollaborated with James Cameron on the 2009 film Avatar, which was released in December 2009 and has since become the highest-grossing film of all time, surpassing Titanic (also directed by Cameron and scored by Horner). Horner spent over two years working on the score for Avatar, and did not take on any other projects during that time. His work on Avatar earned him numerous award nominations, including his tenth Academy Award nomination as well as Golden Globe Award, British Academy Film Award, and Grammy Award nominations, all of which he lost to Michael Giacchino for Up.

Regarding the experience of scoring Avatar, Horner said, "Avatar has been the most difficult film I have worked on and the biggest job I have undertaken ... I work from four in the morning to about ten at night and that's been my way of life since March. That's the world I'm in now and it makes you feel estranged from everything. I'll have to recover from that and get my head out of Avatar."

Horner also composed the score for the 2010 version of The Karate Kid, replacing Atli Örvarsson. This film - the first that Horner worked on after Avatar - was released in 2010. In 2011, Horner scored Cristiada (also known as For Greater Glory), which was released a year later, and Black Gold. In 2012 Horner scored The Amazing Spider-Man, which starred Andrew Garfield and premiered on July 3. In an interview on his website, Horner revealed why he didn't return to compose the second movie; that he didn't like how the movie resulted in comparison to the first movie, and even called the movie "dreadful." Upon his departure, he was replaced by Hans Zimmer.

At the beginning of 2015, Horner wrote the music for Jean-Jacques Annaud's adventure film Wolf Totem, which marked his fourth collaboration with Annaud and also Horner's first film score in nearly three years. At the time of his death in 2015, projects to which Horner was attached included the forthcoming film The 33 for director Patricia Riggen, and Southpaw, a sports drama film directed by Antoine Fuqua and starring Jake Gyllenhaal and Rachel McAdams. Both films are slated for release later in 2015. Horner's scores have been sampled in trailers for other films. The climax of the track Bishop's Countdown from his score for Aliens ranks fifth in the most commonly used soundtrack cues for film trailers.

On June 22, 2015, multiple international news outlets reported that Horner was presumed dead after his Short Tucano turboprop aircraft crashed into the Los Padres National Forest near Ventucopa, California. The following day, his representatives at the Gorfaine/Schwartz Agency posted a message on their website stating that Horner, the only person aboard the aircraft, was killed. His attorney confirmed Horner was in the craft when it took off after fueling at Camarillo Airport.

Contemporaries and collaborators paid their respects to Horner, including composers Paul Williams and Alan Menken, and directors Ron Howard and James Cameron. Horner was reported to be committed to the Avatar franchise; Cameron said he and Horner "were looking forward to our next gig." Horner's assistant Sylvia Patrycja wrote on her Facebook page, "We have lost an amazing person with a huge heart and unbelievable talent [who] died doing what he loved." Many well-known celebrities, including Russell Crowe, Diane Warren, and Céline Dion also gave their condolences. On her official website, Dion wrote, "René Angélil and I are shaken by the tragic death of James Horner, whom we considered a friend. We will always remember his kindness and great talent that changed my career. We send our prayers and deepest condolences to his family and friends."
---
Sources: Geier, Thom (June 22, 2015). "James Horner, Oscar-Winning Composer of 'Titanic,' Dead at 61". The Wrap. Retrieved June 22, 2015.
"Creative Team". Titanic Live. Retrieved June 22, 2015. Harrington, Richard (July 25, 1982).
"Sounds Of the Summer Screen". The Washington Post. p. L1.
"USATODAY.com - New mom Dion back with new album, Vegas deal".usatoday.com. Retrieved June 23, 2015.
Clemmensen, Christian (April 16, 2012) [November 18, 1997]. "Titanic(James Horner)". Filmtracks.com. Retrieved May 21, 2012.
"All Time Worldwide Box Office Grosses". boxofficemojo.com. RetrievedJune 23, 2015.
Clemmensen, Christian. "James Horner (1953–)". Filmtracks.com. Retrieved May 21, 2012.
James Horner Facts, information, pictures | Encyclopedia.com articles about James Horner
Salter, Susan (2003). Contemporary Musicians.
"The Jews Who Wrote Christmas Songs (2010)". interfaithfamily.com.
"Harry Horner; Designer Won 2 Oscars, Accolades in Theater". latimes. Retrieved June 23, 2015.
MacDonald, Laurence E. The invisible art of film music: a comprehensive history. Ardsley House Publishers, 1998: p. 328 [1]
Kauh, Elaine (December 2014). "WNat Geo To Release Aviation Documentary". avweb.com. Aviation Publishing Group. Retrieved April 11,2015.
Women Who Run the Show by Mollie Gregory (2002), pp. 146
Shurley, Neil. "Battle Beyond the Stars / Humanoids from the Deep (Original Soundtracks from the Roger Corman Classics)". AllMusic. Retrieved June 22,2015.
"Battle Beyond the Stars". Filmtracks. Retrieved June 22, 2015.
"Josh Reviews the Newly-Released Complete Soundtrack for Star Trek VI: The Undiscovered Country". MotionPicturesComics.com. May 23, 2012. RetrievedJune 22, 2015.
Cater, Evan. "Aliens [Original Motion Picture Soundtrack]". AllMusic. Retrieved June 22, 2015.
"James Horner's Most Memorable Scores: From 'Titanic' to 'Avatar'". The Hollywood Reporter. June 22, 2015. Retrieved June 22, 2015.
"70th Academy Awards - Academy Awards® Database - AMPAS". oscars.org. Retrieved June 23, 2015.
HFPA – Awards Search[dead link]
Eger, Marcus (May 26, 2011). "Cinematic Melodies – 'The Ascension' by James Horner – featured in the trailer for "Super 8". The Florida Times-Union. Retrieved June 22, 2015.
"James Horner: Ten Best Movie Soundtracks". Classic FM. RetrievedJune 22, 2015.
"CBS to Change Theme Along with Anchor". NPR. August 4, 2006. RetrievedJune 22, 2015.
Clemmensen, Christian (August 2, 2011) [January 25, 2010]. "Up: (Michael Giacchino)". Filmtracks.com. Retrieved May 25, 2012.
"Times Online". timesonline.co.uk. Retrieved June 23, 2015.
Horner assigned to The Karate Kid film remake
"Conversation With James Horner". James Horner Film Music. RetrievedMarch 30, 2014.
Broxton, Jonathan (March 11, 2015). "WOLF TOTEM – James Horner". Movie Music UK. Retrieved June 22, 2015.
Pedersen, Erik (June 22, 2015). "Plane Registered To 'Titanic' Composer James Horner Crashes; Pilot Killed: Reports". Deadline. Retrieved June 22,2015.
"Top 100 Frequently Used Cues". soundtrack.net. Retrieved December 19,2007.
Dates announced for Horners's double concerto, jameshorner-filmmusic.com, May 17, 2014. Retrieved September 19, 2014
Horner Concerto for 4 Horns – London[dead link], british-horn.com. Retrieved September 19, 2014
Alan Rogers, "My Favourite Scenes–1938" in Reel Music, 4 Nov. 2011.[2].
Bond, Jeff (1999). The Music of Star Trek. Lone Eagle Publishing Company. p. 114. ISBN 1-58065-012-0.
"Glory", in Filmtracks: Modern Soundtrack Reviews (1998, 2006).
Thomas Muething, "Wen immer es angeht" (To Whom It May Concern), in: Der Deutsche Film Musik-Dienst, Nr.30/1995 (in German)
Alex Ross, "Oscar Scores", in The New Yorker, March 9, 1998.
Lukas Kendall & Jeff Bond, "Letters about James Horner's Titanic," in Film Score Monthly, 1997.
"Pilot dies in plane registered to James Horner, Titanic composer". Canadian Broadcasting Corporation. Associated Press. June 22, 2015. Retrieved June 22,2015.
"James Horner killed in plane crash - CNN.com". CNN. June 23, 2015. Retrieved June 23, 2015.
Dalton, Andrew; Cohen, Sandy (June 24, 2015). "Composer James Horner dies in plane crash; won Oscar for Titanic score". Associated Press. RetrievedJune 24, 2015 – via Contra Costa Times.
Burlingame, Jon (June 24, 2015). "James Horner: An Appreciation". The Film Music Society. Retrieved June 24, 2015.
Chestang, Raphael (June 24, 2015). "How James Horner Created the Unforgettable Titanic Theme Song, 'My Heart Will Go On'". ET Online. Retrieved June 24, 2015.
Barnes, Mike (June 22, 2015). "James Horner, Film Composer for Titanic andBraveheart, Dies in Plane Crash". The Hollywood Reporter. Retrieved June 22,2015.
Johnson, Zach (June 23, 2015). "James Horner Dies in a Plane Crash: Russell Crowe, Céline Dion, Ron Howard and More Send Their Condolences". E!. Retrieved June 24, 2015.
Dion, Celine (June 23, 2015). "James Horner". Retrieved June 24, 2015.
"P.K. and the Kid (1987)". Films de France. Retrieved June 22, 2015.
"James Horner to Score 'Black Gold' - Film Music Reporter".filmmusicreporter.com. Retrieved June 23, 2015.
"One Day in Auschwitz". KWS Films. Retrieved June 22, 2015.
Thurber, Matt (April 10, 2015). "Living in the Age of Airplanes". Aviation International News. Retrieved April 15, 2015.
"Living in the Age of Airplanes". Living in the Age of Airplanes. RetrievedJune 23, 2015.
"James Horner". Star Trek Soundtracks. RetrievedJune 22, 2015.
"CBS Evening News" 2006 – 2011 Theme". Network News Music. RetrievedJune 22, 2015.
Mackie, Drew (June 22, 2015). "Titanic Composer James Horner Missing, Feared Dead After Plane Crash". People. Retrieved June 22, 2015.
"Honey, I Shrunk the Kids". Filmtracks. Retrieved June 22, 2015.
"Tummy Trouble". Library of Congress. Retrieved June 22, 2015.
Tucker, Tara (December 13, 2013). "First In Flight Trailer". All Things Aero. Retrieved June 22, 2015.
Finn, Natalie (June 22, 2015). "Titanic Composer James Horner Missing After Plane Registered to Oscar Winner Crashes, Killing the Pilot". E!. RetrievedJune 22, 2015.
Burlingame, Jon (June 22, 2015). "James Horner, 'Titanic' Composer, Dies in Plane Crash". Variety. Retrieved June 22, 2015.
Czech American Timeline by Miloslav Rechcigl, Jr. (2013), pp. 402
James Horner to receive Max Steiner Award, January 24, 2013. Retrieved March 4, 2013
"AFI's 100 Years Of Film Scores" (PDF). American Film Institute. 2005. Retrieved May 24, 2012.

Wikimedia Commons, By StarCards (StarCards supporter James Horner) [see page for license], via Wikimedia Commons