James E. Rothman
(1950 - )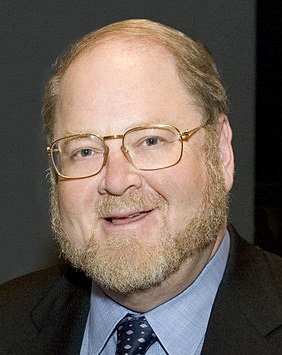 James Rothman is a Jewish American Nobel laureate biochemist.
Rothman is Fergus F. Wallace Professor of Biomedical Sciences at Yale University in New Haven, Connecticut. He also chairs the Department of Cell Biology at Yale's medical school and directs its Nanobiology Institute.
Originally from Haverhill, Massachusetts, Rothman earned his bachelor's degree in physics at Yale in 1971 and his PhD in biological chemistry from Harvard in 1976, where he worked with the late Eugene Patrick Kennedy, an esteemed Professor of Biological Chemistry and Molecular Pharmacology.
Rothman was Professor of Molecular Biology at Princeton University in New Jersey from 1988 until 1991. In 1991 he founded and chaired the Department of Cellular Biochemistry and Biophysics at the Memorial Sloan-Kettering Cancer Center in New York, New York. He has also served as Vice Chair and Chairman of the Sloan-Kettering Institute. Rothman began teaching physiology at Columbia University's College of Physicians and Surgeons soon after the turn of the century, and also led the university's Center for Chemical Biology.
In 2013, Rothman won the Nobel Prize in Physiology or Medicine with two colleagues "for their discoveries of machinery regulating vesicle traffic, a major transport system in our cells." His main area of expertise and research is cell physiology and his work illuminates the intricacies of vesicular transport at the cell level and below, including their protein secretion quality and function.
Rothman's research and its implications are truly interdisciplinary as the vesicular transport process involves concepts in genetics, physiology, and biophysics. "The overall goal is to understand transport pathways from structural mechanism to cellular physiology," according to Yale.
Rothman's many accolades over the span of his career include the King Faisal International Prize for Science (1996), Gairdner Foundation International Award (1996), Heineken Foundation Prize of the Netherlands Academy of Sciences (2000), Columbia University's Louisa Gross Horwitz Prize (2002), Kavli Prize in Neurosciences (2010), and the Massry Prize and Wilson Medal  (both 2010). He is a long-time member of the National Academy of Sciences and its Institute of Medicine and a fellow of the American Academy of Arts and Sciences.
---
Sources:
Harvard Medical Schoool (2012)
Official Web Site of the Nobel Prize
Wikipedia
Yale University Department of Chemistry; School of Medicine.