Helmut Knochen
(1910 - 2003)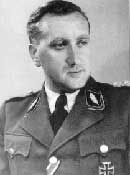 A native of Magdeburg, Helmut Knochen studied history and English at the universities of Leipzig and Gottingen and worked as a teacher and editor. He became a member of the Nazi Party in 1932, joined the SS in 1936, and entered the SD administration. In 1937, he became an officer in the SS, rose rapidly in rank.
In 1940, Knochen was appointed a senior commander of the Sicherheitspolizei (Security Police) and SD in Paris, and two years later, in 1942, , he was promoted to Standartenfuhrer with his jurisdiction extended to include all of occupied northern France, as well as Belgium. In this post he was in charge of rounding up French Jews and deporting them to concentration camps. He was responsible for the execution of many Frenchmen.
On July 20, 1944, he was arrested along with the entire SS and Gestapo contingent in Paris by army troops under the direction of anti-Hitler conspirators General von Stuelpnagel and General von Boineberg-Lengsfeld. He was released after the coup collapsed.
Following the liberation of France by the Allied forces, Knochen was posted to the Leibstandarte - SS "Adolf Hitler" (Adolf Hitler SS Bodyguard Regiment) of the Waffen-SS.
In June 1946 a British military court in the British zone of Germany sentenced Knochen to death for the murder of British pilots who had been taken prisoner. The sentence was not carried out, however, and he was extradited to France, where he was tried in 1954 and sentenced to death. In 1958, the sentence was commuted to life imprisonment. President Charles de Gaulle granted Knochen a pardon in 1962 and he was sent back to Germany, where he retired in Baden- Baden.
---
Sources: Joric Center; Israel Gutman, ed. Encyclopedia of the Holocaust. Vols. 1-4. NY: Macmillan, 1995, pp. 807-808.