Gustav Mahler
(1860 - 1911)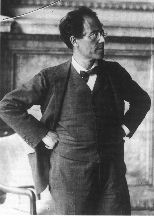 While his music was less appreciated in his day, he is now hailed as one of the last great romantic composers in the tradition of Beethoven, Brahms and Wagner. His musical legacy inspired early 20th century disciples such as Arnold Schoenberg and Alban Berg. Mahler's nakedly emotional work consists of nine symphonies which are huge in orchestral scale, and seven song cycles often based on folk elements. Equally as prominent was Mahler the conductor who greatly enriched orchestral resources and elevated the standards of the musical play.

He was a prodigy whose father supported his talent. Barely ten when he staged his first piano recital, he soon graduated to composition by way of conducting operettas and ever-more demanding repertoires. His reputation behind the podium peaked as the musical director of the Vienna Opera (1897 - 1907), the outstanding institution of its kind and time. An unrelenting perfectionist, Mahler insisted on technically precise performances faithful to the original scores - demanding much of his singers and musicians whom he often antagonized.

Gustav Mahler converted to Catholicism before taking the position at the Vienna Opera, in order to conform with the bylaws of the institution. Despite this, rumors of his Jewish heritage flourished. In 1902 he married Alma Mahler, who professed a strong dislike for the "Jewish race."

Malicious intrigues and anti-Semitism drove him from Vienna to America where he led the New York Metropolitan Opera; then the New York Philharmonic which he built into the world-class organization it remains today. Among his classics are colossal choral pieces like his eighth symphony, the haunting Das Lied von der Erde, and the deeply moving song cycle, Kindertotenlieder. Mahler was diagnosed with heart disease and returned to Austria for treatment, but passed away on May 18, 1911, soon after his arrival.
---
Sources: Dor LeDor
Green, David. "This Day in Jewish History 1911: Gustav Mahler Dies, Very Young and Scorned," Haaretz, (May 18, 2016)