Gershon Agron
(1894 - 1959)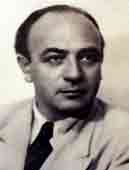 Gershon Agron was born in 1894 in the Ukraine. As a child, he emigrated with his family to the United States.
During World War I, he was a member of the Jewish Legion in Palestine. From 1920 to 1921, he worked for the Press Office of the Zionist Commission. From then until 1924, he worked as the editor of the Jewish Telegraphic Agency and correspondent for several international press agencies, including The Times [London] and the Manchester Guardian.
In 1932, Agron founded "The Palestine Post," an English language newspaper, which became the "Jerusalem Post" in 1950. The "Palestine Post" provided an English language platform representing the Yishuv's cause, both to the British authorities and the English-speaking world, as well as offering news from abroad to the population of the Yishuv. On various occasions, Gershon Agron served as envoy of the World Zionist Organization and as member of the Jewish Agency delegation to the UN conference in San Francisco.
From 1949 to 1951, Agron presided over the Israel's official (government) Information Service.
In 1955, Gershon Agron was elected mayor of Jerusalem and he remained in office until 1959. During his term, he played a key role in the development and expansion of the western sectors of the city.
Gershon Agron's diaries and letters were published posthumously, in 1964.
---
Sources: ©The Pedagogic Center, The Department for Jewish Zionist Education, The Jewish Agency for Israel, reproduced with permission, not for reproduction. Photo courtesy of the Jerusalem Municipality