George Habash (Al Hakim)
(1925-2008)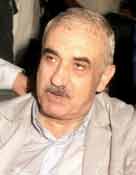 George Habash was born 1925 in Lydda and left during the 1948 war. He is Greek-Orthodox. In the early 1950s, he was a member of the Organization, 'Oppose to Political Settlement with Israel.' He associated with the Pan-Arabist movement of Gamal Nasser and called for fighting the national struggle for Palestine in a united Arab struggle.
He graduated medical school in 1951 from the American University of Beirut and founded the Arab National Movement. After the 1967 war, Habash adopted a more radical socialist philosophy and established the Popular Front for the Liberation of Palestine (PFLP) in 1968. PFLP became the first organization of its kind to hijack airplanes. In 1968, three armed PFLP terrorists hijacked an El Al flight flying from Rome to Tel Aviv. In 1970, the PFLP claimed responsibility for simultaneously hijacking four flights, three of which they flew to Jordan and blew up, triggering the start of the Black September War between the Jordanian army and Palestinian forces.
In 1972, working in conjunction with PFLP forces, Japanese Red Army terrorists killed 24 people at Lod International Airport (now Ben Gurion International Airport). The PFLP's final hijacking occurred in 1976, and resulted in a rescue effor by Israeli forces in Entebbe, Uganda. In 2000, Habash retired after 32 years as head of the PFLP. He died in Amman, Jordan on January 26, 2008.
---