Florence Prag Kahn
(1866 - 1948)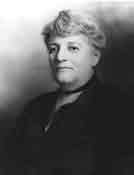 Florence Prag Kahn was the first Jewish woman to sit in the United States Congress as a Representative. She served from 1925 to 1937.
She was born on November 9, 1866, in Salt Lake City, Utah, to Mary and Conrad Prag. Her parents were Polish Jews, who were early settlers of California. Her father was a merchant who sold supplies to the miners during the Gold Rush.
In the mid-sixties, her parents moved to Salt Lake City. He became a friend of Brigham Young. the Mormon leader. Her mother wrote a book entitled My Life Among the Mormons. The family returned to San Francisco when their business failed. Her mother taught history at the San Francisco Girls' High School for over fifty years. She was also an advocate of state pensions and was later elected to the San Francisco Board of Education.
Florence Prag graduated from her mother's school in 1883 and went on to receive a degree from the University of California. She married Julius Kahn on March 19, 1899. He was the newly elected Congressman from California. He served for twenty-six years until he died on December 18, 1924.
When she and Julius Kahn were invited to the Executive Mansion to have dinner with President McKinley, they walked there as a carriage cost one dollar to hire. "In what country," asked Julius Kahn, "could two poor Jews be on their way to dine with the head of state?" He was not a wealthy man and when he died he left $4,430. Florence Prag Kahn was elected to Congress to replace her husband in a special election.
The Kahns were Republicans who were dedicated to Judaism. Their sons were bar mitzvahed at Temple Emanuel. Most of the influential San Francisco Jews were among her friends and fans.
She was a brilliant woman and the San Francisco Chronicle in August, 1926, described her as "a Republican who knows how to get things done." She had a keen sense of humor. Once when asked "Would you favor a birth control law?" "I will if you make it retroactive," she replied. On another occasion, she heard that the Democratic Party leaders planned to buy an island in the San Francisco Bay for a weekend retreat. She quickly sent a note to the Attorney General suggesting Alcatraz for the place.
She worked hard for the re-election of Herbert Hoover as president, but he lost to Franklin Delano Roosevelt. Mrs. Roosevelt praised Mrs. Kahn and sent her an open invitation to the White House.
When she lost her bid for re-election in the Roosevelt landslide, in 1936, she returned to private life. She participated in the American Association of University Women, Hadassah and the Council of Jewish Women. She traveled throughout California trying to get women interested in national politics. She died on November 16, 1948, of a heart disease.
When Florence Prag Kahn became the first Jewess elected to Congress, she started a long chain of other Jewish women following in her foot steps. Recently, there were two Jewish women elected to the United States Senate from Mrs. Kahn's home state of California, which was a tribute to her efforts in having women in national politics and the legacy that she left for all women.
---
Sources: This is one of the 150 illustrated true stories of American heroism included in Jewish Heroes & Heroines of America : 150 True Stories of American Jewish Heroism, © 1996, written by Seymour "Sy" Brody of Delray Beach, Florida, illustrated by Art Seiden of Woodmere, New York, and published by Lifetime Books, Inc., Hollywood, FL;
Biographical Dictionary of the United States Congress