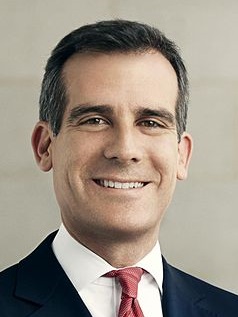 Eric Garcetti was born in Los Angeles on February 4, 1971, to Sukey Roth and former LA County District Attorney Gil Garcetti. His mother descended from Russian Jews who immigrated to the United States; his father's family were Italian Catholics who moved to Mexico to escape 19th century turmoil and then fled to the U.S. during Mexico's revolution.
Garcetti was raised in Encino, California. He went to elementary school at the University of California Los Angeles' Lab School and completed the rest of his primary education at the Harvard-Westlake School. In 1992 he graduated from Columbia University in New York City with a degree in political science and urban planning. In college, Garcetti was active in student government, the literary society, and actor in and writer of student musicals.
Garcetti continued to study international affairs at Columbia and earned a Masters degree from the Columbia School of International and Public Affairs. He studied as a Rhodes Scholar at Oxford and the London School of Economics.
Garcetti began his professional career as an academic, teaching at the university level and writing scholarly articles and book chapters about ethnic conflict and nationalism.
In 2001, Garcetti was elected to the LA City Council and was reelected in 2005 and 2009.
On the national political scene, he endorsed Barack Obama in the spring of 2007 and co-chaired his presidential campaign in Southern California. Garcetti was a superdelegate at the 2008 Democratic National Convention, and serves on the executive committee of the Democratic National Committee.
In 2013, Garcetti became the first Jew elected mayor of Los Angeles, a city with the second-largest concentration of Jews in the United States following New York City.
In 2021, President Biden appointed Garcetti to be the U.S. Ambassador to India.
Garcetti lives with his wife and daughter in the Getty House, the LA official mayoral residence.
---
Sources: Rex Weiner, "Rhodes Scholar, Italian, Mexican, Jew: Meet Eric Garcetti, L.A.'s New Mayor," Tablet Magazine, (December 18, 2013).
"Eric Garcetti," Wikipedia.
Ron Kampeas, "Biden taps LA's Jewish mayor Eric Garcetti to be US ambassador to India," JTA, (July 10, 2021).