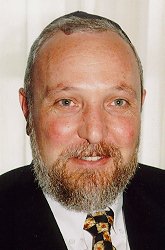 Eli Suissa is an Israeli politician who has held a number of ministerial posts in the Israeli Cabinet.
Suissa (born 1956) was born in Morocco and immigrated to Israel that same year. He completed his army service in the Golani Brigade and as an officer in the army chaplaincy.
Suissa received his rabbinical ordination from Yeshivat Kfar Hassidim. He joined Shas shortly after its founding. He served as the District Commissioner (Jerusalem) of the Ministry of Interior.
Suissa served as Minister of the Interior from 1996 until July 1999. He also served in rotation as Minister of Religious Affairs.
He served as Minister of National Infrastructures from July 1999 until his resignation in July 2000.
In March 2001, Eli Suissa was appointed Minister without Portfolio, responsible for Jerusalem affairs, a position he held through 2004. Suissa lost his seat in the Knesset following the 2003 elections.
He is married and has four children.
---
Sources: Israeli Ministry of Foreign Affairs; Wikipedia