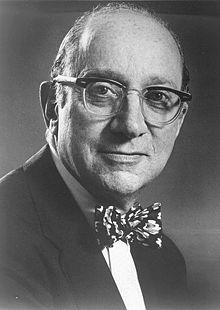 Edward Hirsch Levi was an American Jewish scholar, academic leader and U.S. Attorney General.
Hirsch was born in Chicago in 1911 to Gerson B. Levi, a rabbi from Scotland, and Elisa Hirsch Levi, and attended University of Chicago school system throughout his years in elementary, secondary and post-secondary education. During his career he served at various times as law professor, law school dean, university provost and university president.
His maternal grandfather was Rabbi Emil G. Hirsch, a University of Chicago faculty member in its early years and a key figure in the development of Reform Judaism in the U.S. Levi's entry into government began after Watergate when President Gerald Ford appointed Levi U.S. Attorney General in Washington, D.C. in 1975.
In 1977, Levi returned to his native Chicago, where he died in 2000 at age 88. His many honors and distinctions include the presidency of the American Academy of Arts and Sciences, which marked the first time anyone outside of New England received that position.
---
Sources: New York Times (March 8, 2000), University of Chicago. This biography was written with the research assistance of Eli Nirenberg.