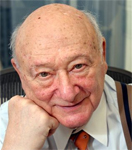 Edward Irving Ed Koch was an American Jewish lawyer, politician, and political commentator. He is best known as the Mayor of New York City from 1978 to 1989.
Koch was born on December 12, 1924, in the Bronx, New York, the son of Jewish immigrants from Poland. He was raised in Newark, New Jersey, and graduated from South Side High School in 1941.  Drafted into the United States Army during World War II, Koch served as a combat infantryman with the 104th Infantry Division, attaining the rank of sergeant. During his service, Koch earned two Battle Stars for fighting in the Battle of Hurtgen Forest and at the Battle of the Bulge. In 1946, Koch was honorably discharged from the military.
Upon his return to the States, Koch studied at the City College of New York, where he earned a bachelor's degree and, in 1948, he graduated from New York University Law School. In 1949, he was admitted to the New York bar and practiced law from 1949 to 1968.
In 1963, Koch, a Democrat, was elected as district leader of Greenwich Village, a post he won again in a rematch with Carmine DeSapio in 1965. Koch was a delegate to the State convention in 1964 and, from 1967 to 1969, he served on the New York City Council.
Elected as a Democrat-Liberal to the Ninety-First Congress, Koch served in the US House of Representatives representing New York's 17th and 18th Congressional districts from January 1969 until he resigned from the post in December 1977 to become mayor of New York City.
Koch began his first term as New York's mayor on January 1, 1978, and was re-elected twice in 1981 and 1985. In the 1981 election, Koch ran under the Democratic and Republic tickets, winning the election easily with 75% of the vote. In 1982, he ran unsuccessfully for governor of New York State, losing to then-lieutenant governor Mario Cuomo.
In 1989, Koch ran for a fourth mayoral term; however, he lost the Democratic primary to challenger David Dinkins who would later defeat Republican Rudy Giuliani in the general elections.
Following his political career, Koch reentered the law profession, working as a partner in the law firm of Robinson, Silverman, Pearce, Aronsohn, and Berman while also becoming a political commentator, movie and restaurant reviewer, professor at New York University, and even a judge on The People's Court television show.
On March 23, 2011, the New York City Council voted to rename the Queensboro Bridge the Ed Koch Queensboro Bridge in honor of the former mayor.
Koch, a lifelong bachelor, died on February 1, 2013, of congestive heart failure at a hospital in New York. He was 88 years old.
---
Sources: Biographical Directory of the United States Congress.
Wikipedia.
Washington Post.