David Wolffsohn
(1856 - 1914)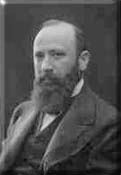 David Wolffsohn was born in Darbenai, Lithuania in 1856 where he received a traditional Jewish education. He moved in 1872 to Memel and then again to Lyck in East Prussia, finally making his home in Cologne in 1888. It was here that he became a successful businessman.
Wolffsohn had been active in Jewish affairs throughout his travels but it was in Cologne that he first became involved in Zionist activities. In 1893, together with Max Bodenheimer he established the Cologne Association for the Development of Agriculture in the Land of Israel, which was one of the Hovevei Zion groups of the time. In 1896, immediately after he heard of Herzl's impending publication of Der Judenstaat, Wolffsohn traveled to Vienna, to meet with the future leader of the Zionist movement. Wolffsohn soon became Herzl's associate and was a member of the Inner Actions Committee until 1904. He went with Herzl on his tour to Constantinople and Eretz­Israel where they met with Kaiser Wilhelm II. Wolffsohn became one of the central figures in the establishment of the Jewish Colonial Trust and later became its first president. But in this capacity he experienced a number of differences with Herzl who despite his lack of financial experience interfered in the running of the bank.
Despite these difficulties, Wolffsohn remained loyal to Herzl even during the Uganda plan controversy and rather than to oppose the leader of the Zionist Organization, Wolffsohn maintained his silence. After Herzl's death, Wolffsohn assumed the position of President of the World Zionist Organization continuing the political and diplomatic priorities of his predecessor. The practical Zionists and the Democratic faction opposed his re­election in 1911 although he continued his work with the Jewish Colonial Trust. He died on September, 15, 1914, in Hamburg, Germany.
---
Sources: The Jewish Agency for Israel and The World Zionist Organization