David Raziel
(1910 - 1941)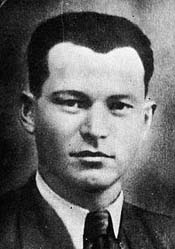 David Raziel was born on December 19, 1910, in the Vilna district of the Russian Empire. When he was three, his family immigrated to Eretz Israel and his father became a Hebrew teacher at a Tel Aviv elementary school. When the 1929 Arab riots broke out, he joined the Haganah in Jerusalem, where he was studying philosophy and mathematics at the Hebrew University. When the Irgun was established, he was one of its first members and displayed outstanding military skills.
In 1937, Raziel was appointed Commander of Jerusalem District and a year later Commander in Chief of the Irgun. On May 19, 1939, he was captured by the British authorities and sent to a prison camp, from which he was released at the end of October as a result of the outbreak of World War II and the Irgun's readiness to cooperate in the war effort against the Axis. He continued to serve as Irgun commander and leader of Betar. According to former Irugnist, Prof. Yaere Yadede, Raziel's agreement to an armistice during the war caused a split with his friend Avraham Stern, who started his own organization, the Freedom Fighters for Israel (LEHI).
On May 17, 1941, Raziel was sent to Iraq with three of his comrades on behalf of the British Army intelligence. According to Yadede, Raziel, "had volunteered to help the British in putting out of commission the Kirkuk oil fields and capturing the Mufti, Haj Amin al-Husseini, who had found refuge under the Iraqi Nazi collaborator's protection." On May 20, the car in which he was traveling was hit during a German bombing attack and he and a British officer were killed.
Buried in the British military cemetery at ?abb?niyya, his remains were transferred to Nicosia, Cyprus, in 1955 and finally interred on Mount Herzl in Jerusalem in 1961. Ramat Raziel, a moshav in the Judean Mountains, is named after him.
---
BIBLIOGRAPHY
S. Katz, Days of Fire (1968), index; Jabotinsky Institute in Israel, David Raziel (Heb., 1956); D. Niv, Ma'arekhot ha-Irgun ha-?eva'i ha-Le'ummi, 3 (1967), index; Dinur, Haganah, 2 pt. 3 (1963), index.
---
Sources: The Irgun Site; Letter from Prof. Yaere Yadede to the Jerusalem Report, (April 19, 2004);
Encyclopaedia Judaica. © 2008 The Gale Group. All Rights Reserved.