David Levy Yulee
(1810 - 1886)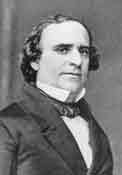 David Levy Yulee was a Jewish American politician and the first person of Jewish heritage elected to serve in the U.S. Senate.
Yulee was born in St. Thomas on June 12, 1810. He was the son of Moses Elias Levy, a Moroccan Jew who made his fortune in timber in the Caribbean, then bought 50,000 acres of land near Jacksonville, Florida, hoping to create a New Jerusalem for Jewish settlers. Levy County and the city of Yulee are named after this family. Yulee went to school in Norfolk, Virginia and studied law in St. Augustine.
He served in the Florida legislature and was a leader in the campaign for statehood, serving as a delegate to the Florida constitutional convention in 1838. From 1841 to 1845, Yulee was the Florida territory's delegate to Congress. When Florida was admitted to the Union in 1845, he became one of the new state's senators and, at the same time, became the first Jew elected to the United States Senate. Yulee, a Democrat, was first elected in 1845 and served until 1851 and then served another term from 1855 to 1861, when he resigned his seat.
Yulee had been known only as David Levy to this point, but legally assumed the name of Yulee after one of his ancestors, soon after his marriage in 1846 to the daughter of ex-Governor Wickliffe of Kentucky. Yulee subsquently adopted a Christian lifestyle by raising his children as Christians; nevertheless, he was an object of anti-Semitic attacks throughout his career.
Yulee was a vigorous supporter of slavery and secession, and joined the Confederate Congress during the Civil War. After the war, he was imprisoned for nine months as a prisoner of state at Fort Pulaski until he was pardoned. He then returned to the pursuit of building the Florida railroad and served as president of the Florida Railroad Company from 1853 to 1866 as well as president of Peninsular Railroad Company, Tropical Florida Railway Company, and Fernandina and Jacksonville Railroad Company. Called the "Father of Florida's railroads," Yulee moved to Washington, D.C., in 1880.
He died in New York City, October 10, 1886, and was buried in Oak Hill Cemetery in Washington, D.C.
---
Sources: L. Sandy Maisel and Ira Forman, Eds. Jews in American Politics. (Lanham: Rowman & Littlefield, 2001), p. 439.
Virtualology.com.
Biographical Directory of the United States Congress.
Yulee, David Levy, Encyclopaedia Judaica, 2nd Edition.
Photo: U.S. Senate Historical Office.