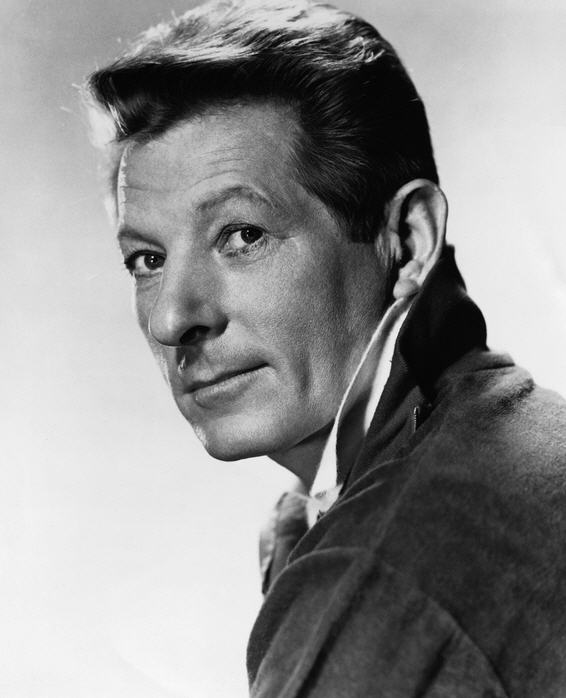 Danny Kaye, born David Daniel Kaminsky, was a U.S. actor and entertainer. The son of a tailor, Kaye was born and brought up in Brooklyn, New York. The son of an immigrant Russian tailor, his parents spoke Yiddish and Russian at home. He started singing and dancing at Jewish weddings when he was a small child.
Kaye dropped out of high school and briefly worked as an insurance agent before starting his entertainment career on the "Borscht Circuit" in the Catskill Mountains.
In 1939, he played ten weeks on Broadway in The Straw Hat Revue, a show partly devised by Sylvia Fine, whom he married and who continued to write material for him. His spectacular rise to stardom began in 1941, when Moss Hart saw him at a New York nightclub and decided to write a part for him in the musical Lady in the Dark, in which Kaye scored an immediate success. His other Broadway performances were in Let's Face It (1941–43); Danny Kaye Revue (Tony Award, 1953 and 1963); and, later in his career, Two by Two (1970).
He became a favorite on both sides of the Atlantic, with appearances on stage and screen. His versatile gifts were fully displayed in the film version of James Thurber's short story The Secret Life of Walter Mitty (1947). His other films include The Kid from Brooklyn (1946), A Song Is Born (1948), The Inspector General (1949), On the Riviera (Golden Globe for Best Actor, 1951), Hans Christian Andersen (1952), White Christmas (1954), The Court Jester (1956), Merry Andrew (1958), Me and the Colonel (Golden Globe for Best Actor, 1958), The Five Pennies (1959), On the Double (1961), and The Madwoman of Chaillot (1969).
Kaye developed a highly individual style that relied on mime, song, irony, and a sunny personality. His specialty was reciting tongue-twisting songs and monologues. Those powers were perhaps seen at their best in the theater, where he could hold an audience with an hour-long act of song, dance and patter.
In 1955, he received an honorary Oscar, relating to the documentary, Assignment Children, about his work around the world with UNICEF.
In 1960, he began doing specials on television, which led to his own TV series, The Danny Kaye Show (1963 to 1967). He won an Emmy for his variety show in 1964. He also appeared in numerous television shows, including Pinocchio, Peter Pan, The Twilight Zone, The Muppet Show and The Cosby Show. A special in which he explained opera to children, Look-in at the Met, won an Emmy and the special, Live from Lincoln Center: An Evening With Danny Kaye and the New York Philharmonic won a Peabody.
In one of his most memorable roles, the 1981 television movie, Skokie, Kaye played a Jewish Holocaust survivor who ignored calls to ignore neo-Nazis who planned to march in Skokie, Illinois, and led a fight to prevent them from coming to the neighborhood. Speaking about the role, Kaye said he believed in Free Speech, and was worried that if protests by unpopular groups like the Nazis "can be stifled by government today…the same principle can be applied tomorrow when others may have the desperate need to cry out for help and justice."
Danny Kaye returned to Broadway in 1970 as Noah in Two by Two, with music by Richard Rogers. He injured his leg and hip, but performed every night from a wheelchair.
In 1979, Kaye celebrated his 25th anniversary as UNICEF's Ambassador, and made The Guinness Book of Records by piloting a private jet to 65 cities in the U.S. and Canada in 5 days, to greet UNICEF volunteers for the organization's Trick-or-Treat campaign.
In 1982, he was honored by the Academy of Motion Picture Arts and Sciences with the Jean Hersholt Humanitarian Award.
He retired from show business in 1967, serving as United Nations International Children's Fund (UNICEF) first Goodwill Ambassador. Kaye couldn't read a note of music – he learned scores by ear – but was invited to conduct charity concerts by world-famous orchestras, which he did with a combination of seriousness and humor exemplified by the time he used a fly swatter to conduct The Flight of the Bumblebee. These events raised close to $6 million, mostly for musicians' pension funds.
He entertained troops from WWII to Korea and Vietnam and was devoted to Israel. He visited kibbutzim and hospitals, toured several continents with the country's youth symphony and received virtually every honor awarded by that nation.
Kaye was a baseball fan and part owner of the Seattle Mariners. He was also a licensed pilot who could fly everything from Piper Cubs to Boeing 747s.
Kaye also wrote Around the World Story Book (1960).
In 1984, Kay was honored by the Kennedy Center in Washington. In 1987, President Ronald Reagan honored Kaye with the United States' highest civilian award, the Presidential Medal of Freedom.
Two theaters are named after the entertainer, The Danny Kaye Theatre at the Culinary Institute in Hyde Park, New York, and the Sylvia and Danny Kaye Playhouse at Hunter College in New York.
Kaye and Fine had a daughter, Dena, who became a freelance journalist, radio and television broadcaster. She became president of the Danny Kaye and Sylvia Fine Kaye Foundation to continue her father's legacy of helping people around the world.
As UNICEF's biograph noted, Kaye was "a Renaissance man who was a jet pilot, baseball owner, master Chinese chef, symphony orchestra conductor, a performer honored with Oscars, Emmys, Peabodys, Golden Globes, the French Legion of Honor and the Presidential Medal of Freedom, Danny Kaye was one of a kind…."
A Hollywood writer said, "If Danny Kaye had not been born, no one could possibly have invented him. It would have been stretching credibility far past the breaking point."
---
Sources: Encyclopaedia Judaica. © 2008 The Gale Group. All Rights Reserved;
M. Gottfried, Nobody's Fool: The Lives of Danny Kaye (1994);
M. Freedland, The Secret Life of Danny Kaye (1985);
"Danny Kaye," UNICEF USA;
Arthur Unger, "Danny Kaye talks about his role in the complex drama 'Skokie.'" Christian Science Monitor, (November 13, 1981).
Photo: Public domain via Wikimedia Commons.