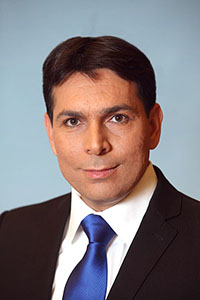 On May 8, 1971, Danny Danon was born in Ramat Gan, Israel, to Joseph and Yoheved Danon. He attended Blich High School and participated in the Betar youth movement. Danon earned a bachelor's degree in international affairs from the Florida International University and a master's degree in public policy from the Hebrew University of Jerusalem. After his national service in the IDF (1994–1996), Danon was sent by the Jewish Agency to Miami.
In 1996 he was appointed assistant to Likud MK Uzi Landau. Later, he was appointed the Chairman of the World Betar organization for a few years. Before the 2006 elections, Danon won the 23rd spot on Likud's list in the party primaries. However, the party won only 12 seats, and Danon did not enter the Knesset.
In June 2006, after beating MK Yuval Steinitz, Danon was elected Chairman of the World Likud organization. Danon opposed Prime Minister Ariel Sharon's disengagement plan during the referendum conducted by the Likud central committee.
In July 2007, Danon, described as one of Benjamin Netanyahu's most prominent critics from within the Likud, declared his candidacy for the Likud leadership election. He eventually finished third.
In 2008, Danon filed a petition to the Israeli High Court of Justice to rescind the citizenship of former MK Azmi Bishara, who fled Israel after he was suspected of aiding Hezbollah during the Second Lebanon War. The petition was rejected.
Before the 2009 elections, he won twenty-fourth place on the Likud list and entered the Knesset as the party won 27 seats. Danon was Deputy Speaker of the Knesset during the 18th Knesset (2009-2013).
In September 2009, Danon toured the United States, meeting with Congressmen, leaders of the Jewish community, and others on a public relations mission, telling lawmakers that "U.S. pressure on Israel is hurting Israel and will do nothing to advance peace."
In an August 2011 interview with Timor Nabili on Al Jazeera English, Mr. Danon said, "There is place only for one state on the land of Israel… I do not believe in a two-state solution."
Danon is the author of "Israel: The Will to Prevail," published by Palgrave Macmillan (4 September 2012).
In March 2013, Danon was appointed as Deputy for Moshe Ayalon in the Ministry of Defense.
On July 15, 2014, Danon was fired from his position as Deputy Defense Minister by Prime Minister Benjamin Netanyahu after publicly criticizing Netanyahu's handling of Operation Protective Edge.
Danon submitted his candidacy for the 2014 Likud leadership election on December 8, 2014.
Danon was named the Cabinet Minister of Science, Technology, and Space following the 2015 Israeli election. He was appointed Ambassador to the United Nations that August, where he served until 2020.
Danon published his first book in 2012 titled Israel: The Will to Prevail.
---
Sources: Shelly Paz, "On the cusp," The Jerusalem Post, (February 5, 2009).
"Betar chair trounces MK Steinitz in World Likud poll," Haaretz, (June 19, 2006).
"Danon joins race for Likud leadership," Jerusalem Post, (July 13, 2007).
"400 Rabbis Send Letter to Murdoch," Jewish Funds for Justice, (January 27, 2011).
Moran Azulay, "Netanyahu fires Danon for critical remarks," Yedioth Aharonot, (July 15, 2014).
Gil Hoffman, "Danon says criticism of negligent handling of Hamas tunnels led to ouster," Jerusalem Post, (September 28, 2014).
"Danny Danon submits candidacy for Likud leadership," Times of Israel, (December 8, 2014).
"Ambassador Danny Danon," Israel Mission to the United Nations.
"Danny Danon," Wikipedia.
Photo: Sasson tiram (Sasson Tiram) CC BY 2.5 via Wikimedia Commons.