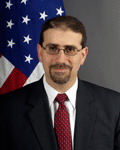 Daniel B. Shapiro is a foreign policy specialist with expertise in the Middle East with a particular interest in Israel. He was sworn in as U.S. Ambassador to Israel by Secretary of State Hillary Clinton on July 8, 2011.
Shapiro played a large role in Barack Obama's campaign for the presidency beginning in 2007 as an advisor on Middle East and Jewish community issues, while also assisting as a strategist and fundraiser. In July 2008, Shapiro accompanied Obama on his trip to Israel and on August 19, 2008 he was named Senior Policy Advisor and Jewish Outreach Coordinator. He was later selected to head the Middle East desk at the National Security Council in the Obama Administration.
In 2007, Shapiro was named vice president of the Washington D.C. lobbying and consulting firm Timmons & Company.
From 1999 to 2001 he worked at the National Security Council, during the administration of Bill Clinton, as director of legislative affairs and as a Congressional liaison for National Security Advisor Sandy Berger. From 2001 to 2007 he worked first as legislative advisor and then deputy chief of staff (primarily on foreign policy issues) for U.S. Senator Bill Nelson (D-Florida).
From 1993 to 1995 he served as a staff member on the United States House Foreign Affairs Subcommittee on Europe and the Middle East, under Chairman Lee Hamilton (D-Indiana). From 1995 to 1999 he served as a legislative assistant and senior foreign policy advisor to Senator Dianne Feinstein (D-California). He previously worked for the State Department at the U.S. Embassy in the United Arab Emirates and served as an adjunct professor at the Georgetown University School of Foreign Service.
Shapiro was born and raised in Champaign, Illinois and graduated in 1986 from the University Laboratory High School of Urbana. He obtained a bachelor's degree from Brandeis University in 1991, and a master's degree in Middle Eastern Politics from Harvard University in 1993.
In 2021, Shapiro joined the State Department team working on issues related to Iran in the Biden administration.
---
Sources: Embassy of the United States - Tel Aviv.
Timmons & Company, Inc.
Wikipedia.
Barak Ravid, "Scoop: Former Israel ambassador joins U.S. Iran team," Axios, (August 29, 2021).

Photo: Public domain.