Clifford Odets
(1906-1963)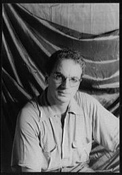 Clifford Odets was born on July 18, 1906, in Philadelphia, Pennsylvania. He was raised in the Bronx, New York, but dropped out of high school to pursue acting. He helped found the Group Theatre in 1933, an influential left-wing theatre company that specialized in experimental acting. After briefly trying acting, Odets decided to become the Group Theatre's first original playwright. In 1935, he wrote the play Awake and Sing! Although it was only his first play, it is often considered his masterpiece.
Mainly due to misgivings from Group leader Lee Strasberg, Awake and Sing! was not produced right away. Odets' first play to actually be produced was the one-act play Waiting for Lefty (1935). That same year, he also wrote one of the first anti-Nazi played produced in the United States, the one-act Till the Day I Die. When his next play, Paradise Lost, flopped, Odets moved to Hollywood to begin writing for the screen as well as the stage. While in Hollywood, he wrote several unsuccessful films, then returned to Broadway and the Group, recharged with engery for stage production. His next play, Golden Boy (1937), became his biggest commercial success. When the Group Theatre disbanded in 1942, Odets returned to Hollywood. Back in the film industry, Odets tried once more at directing, filming his own script of Richard Llewelyn's novel None But the Lonely Heart.
These plays, along with Odets' other major Group Theatre plays of the 1930s, are harsh criticisms of the capitalist class in the Great Depression. In later years, Odets' plays became more reflective and autobiographical, although class consciousness was ever in the background.
In 1953, Odets was investigated by Joseph McCarthy and called before the House Un-American Activities Committee (HUAC). He disavowed his communist affiliations and cooperated by "naming names"; as a result, he did not share the fate of many of his colleagues who were blacklisted. Nevertheless, Odets became filled with self-loathing, and found it very difficult to write. He only completed one more play, The Flowering Peach (1954).
The Flowering Peach became the basis for the 1970 musical Two by Two. Golden Boy became the basis for a 1964 musical of the same name. His screenplay for the Sweet Smell of Success became the basis for the 2002 musical of the same name.
Odets died on August 18, 1963, at the age of 57, from stomach cancer.
---
Sources: "Clifford Odets (1906 - 1963)." American Jewish Historical Society, American Jewish Desk Reference, (NY: Random House, 1999). pg. 543, Wikipedia