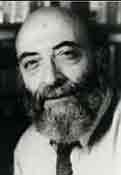 Chaim Potok, born Herman Harold Potok, February 17, 1929, in Brooklyn, NY, was the son of Polish immigrants who had strong ties to Hasidism and was reared in an Orthodox Jewish home. In an interview Potok said, "I prayed in a little shtiebel [prayer room], and my mother is a descendant of a great Hasidic dynasty and my father was a Hasid, so I come from that world."
After reading Evelyn Waugh's novel Brideshead Revisited when he was a teenager, Potok decided to become a writer. Riveted by the world of upper-class British Catholics that Waugh brings to life in the novel, Potok realized for the first time that fiction had the power "to create worlds out of words on paper." To learn how to write, Potok carefully studied the novels of such writers as Ernest Hemingway, William Faulkner, Charles Dickens, and Mark Twain. Over a period of five years, he spent most of his free time reading the novels of great writers.
At the same time, he became fascinated by less restrictive Jewish doctrines, particularly the Conservative movement. He attended Yeshiva University and graduated summa cum laude in English literature in 1950 before moving on to the Jewish Theological Seminary of America, where he was ordained a Conservative rabbi. Potok served as combat chaplain with the United States Army in Korea from 1955 to 1957. He then taught at several Jewish colleges, including the University of Judaism in Los Angeles, before moving on to become the managing editor of Conservative Judaism in 1964. After spending a year in Israel working on his doctoral dissertation, Potok earned a Ph.D. in philosophy from the University of Pennsylvania, and the following year he became the editor of the Jewish Publication Society of America. He remained in that position for eight years before becoming a special-projects editor of the publication in 1974. Throughout his career in publishing, Dr. Potok wrote numerous popular articles and reviews.
Potok began his career as an author and novelist in 1967 with the publication of The Chosen, which stands as the first book from a major publisher to portray Orthodox Judaism in the United States. With its story about the friendship between the son of a Hasidic rabbi and a more secularly-minded Jewish boy in Brooklyn, The Chosen established Potok's reputation. Critics praised the book for its vivid rendering of the closed Hasidic community, while many considered it to be an allegory about the survival of Judaism. Potok followed The Chosen with a sequel two years later called The Promise. He returned to the subject of Hasidism for a third time with the 1972 novel My Name is Asher Lev, the story of a young artist and his conflict with the traditions of his family and community. Potok followed this novel with a sequel, as well, publishing The Gift of Asher Lev eighteen years later in 1990.
Potok continued to examine the conflict between secular and religious interests in his other novels as well, which include In the Beginning in 1975, The Book of Lights in 1981, and Davita's Harp in 1985. His most recent works include I Am the Clay, published in 1992, The Tree of Here in 1993, and the 1995 novel The Sky of Now. Potok also published several non-fiction works, including Wanderings: History of the Jews (1978), in which the author combines impressive scholarship with dramatic narrative, and The Gates of November, a 1996 chronicle of a Jewish family in the Soviet Union.
Potok served as a visiting professor at the University of Pennsylvania in both the 1980s and 1990s, and taught briefly at Bryn Mawr College and Johns Hopkins University. He was a passionate lover of Israel, and lived there for several years. Potok was also very active in the Soviet Jewry movement.
Chaim Potok died July 23, 2002, at his suburban Philadelphia home of brain cancer at the age of 73. He is survived by his wife, Adena; two daughters, Rena, a Philadelphia-area college professor, and Naama, an actor in New York; a son, Akiva, who is a filmmaker in California; and two grandchildren.
---
Sources: Class Zone.
Peter Ephross, Chaim Potok dead at age of 73, was literary pioneer and scholar, The Jewish Telegraphic Agency, (July 23, 2002).
Grade Saver. 
Photo courtesy National Foundation for Jewish Culture.