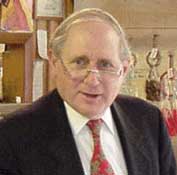 Carl Levin is a Jewish American politician who currently serves as the senior U.S. Senator from Michigan.
Levin (born June 28, 1934) was born in Detroit, where he graduated from Central High School. In 1956, he graduated with honors from Swarthmore College, and from Harvard University Law School in 1959. He practiced and taught law in Michigan until 1964, when he was appointed an Assistant Attorney General of Michigan and the first general counsel for the Michigan Civil Rights Commission.
Levin won election to the Detroit City Council in 1969, becoming President in 1973.
In 1978, Levin won an upset victory over the number two Republican in the U.S. Senate, Robert Griffin, and has since be reelected five consecutive times.
Levin serves as the senior Democrat on the Senate Armed Services Committee, where he has earned a reputation as a strong advocate for the men and women of our Armed Forces and as an effective waste fighter.
Carl Levin has always been a strong advocate for the interests of small businesses in Michigan. A senior member of the Senate Small Business Committee, Levin understands that small business is the heart of America's job creation. He worked to increase the amount of SBA government guaranteed loans that are made to small businesses, providing credit to those businesses that otherwise would not qualify for conventional bank loans.
On March 7, 2013, Levin announced that he would not seek reelection in 2014 and would retire from the Senate at the conclusion of his sixth term in office.
Levin married Barbara Halpern in 1961. They have three daughters, Kate, Laura and Erica, and two granddaughters, Noa, born in 1999, and Bess, born in 2000. His brother Sander has served in the U.S. House of Representatives since 1983.
---
Sources: Senator Carl Levin. U.S. Senate; Wikipedia