Cameroon Virtual Jewish History Tour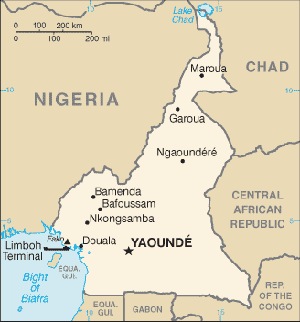 Today, only about a dozen Jews live in Cameroon. The congregation is mostly from Israel. The Israeli Embassy is located in the capital of Cameroon, Yaoundé. Services for holidays are held in the house of the Israeli ambassador, in which Jews can also find a kosher meal.
During an interview on state media on February 3, 2019, Cameroon's Minister Delegate in the Ministry of Justice, Jean de Dieu Momo, compared Cameroon's opposition party, Cameroon Renaissance Movement (CRM) to the Jews "who were crushed by Hitler because of arrogance."
After Israel expressed its outrage over the comment, the Minister of External Relations met with Israel's ambassador to apologize. Rene Sadi, Cameroonian Minister of Communication and government spokesman, said "The government of Cameroon strongly deplores the irrelevant comments of (Jean de Dieu Momo) and completely dissociates itself" and added that "Cameroon and the state of Israel maintain excellent and historic relations."
Israeli Embassy
BP 5964, Yaoundé
Phone: 220 23 98, 220 16 44
---
Sources: "Cameroon." The Jewish Travelers' Resource Guide. Feldheim Publishers. 2001;
Le Portail du Government;
"Cameroon apologizes to Israel over anti-Semitic comments by minister," Xinhua, (February 5, 2019).