Cambodia Virtual Jewish Tour
Jews in Cambodia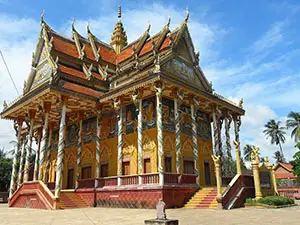 When the Khmer Rouge came to power, Jews made up a miniscule 0.1% of the population in Cambodia. Jews and other religious minorities, including Christians, Muslims, and Hindus were sought out and killed by Pol Pot's forces due to their minority status.

Very few Jews reside in Cambodia currently, and the small Jewish community there consists of ex-patriots, NGO workers, travelers, hikers, and adventurers. Approximately 200 Jewish individuals reside in Cambodia year-round, with most of them living in the capital city of Phnom Penh. The Phnom Penh Chabad welcomes these Jews with open doors, with a sign out front reading "No Jew will be left behind." Dror Marcus, an Israeli ex-patriot who once attempted to open Cambodia's first Israeli restaurant, opened the Chabad house in 2008 after living in the country for over 20 years. The Chabad house serves on average 25 meals every Friday night, and includes a small Kosher grocery store.

An estimated 60-70 Jews live in 20 towns throughout the Cambodian countryside. Siem Reap, a popular tourist destination about 200 miles outside of Phnom Penh, is home to 20 Jews, most of whom work at the local hospital.

A new Cambodian Jewish Community Center is currently under construction.
---
Sources: Frank, Ben. "Angkor Wat: The Heart and Soul of Cambodia," Jerusalem Post, (November 20, 2012);
Chabad Cambodia;
Wikimedia Commons. By Milei.vencel, Hungary (Own work) [CC BY-SA 3.0 (http://creativecommons.org/licenses/by-sa/3.0)], via Wikimedia Commons