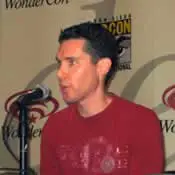 Bryan Singer is a Jewish American film director, screenwriter and producer.
He was born on September 17, 1965 in New York City. He was adopted by Grace and David Norbert Singer, an environmentalist and a corporate executive, and raised in West Windsor, New Jersey.
Singer graduated from high school in 1984 and went on to study filmmaking for two years at New York's School of Visual Arts. Despite being rejected by the USC film school, he moved form New York to Los Angeles to begin his career.
In 1988, Singer made his directorial debut in a short film called Lion's Den. In 1993, his film Public Access was named co-winner of the Grand Jury Prize at the Sundance Film Festival. In 1995, his film The Usual Suspects received the BAFTA Award for Best Film. His other work includes Apt Pupil, X-Men, Confessions of a Dangerous Mind, Battlestar Galactica, X2, Star Trek Nemesis, House, King Kong, Superman Returns, Valkyrie, and Superman: Man of Steel.
Singer is Jewish and openly gay and has said that his life experiences of growing up as a minority heavily influenced his movies. As a child, he was very interested in the Holocaust and has described his films as explorations of his own situation and his personal fear of intolerance. His 2008 film Valkyrie, starring Tom Cruise as Colonel Claus von Stauffenberg, is about the 1944 failed attempt by Nazi officers to assassinate Adolf Hitler. Apt Pupil is about a teenager who becomes fascinated by his neighbor who is a former Nazi in hiding and in X-Men there is a flashback to Magneto as a young boy in a concentration camp. Singer's own family was from Poland and Russia and many of his father's relatives were murdered.
---
Sources: BBC, The Jerusalem Post, Wikipedia