Benny Goodman
(1909 - 1986)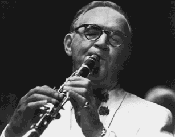 Benny Goodman was unofficially crowned the "King of Swing" at New York's Paramount Theater on March 10, 1937. The theater's sunken stage slowly rose as Goodman and his band played its theme song and the packed house burst into a tremendous crescendo of approval. Throughout the show, many audience members were doing the jjitterbug in the aisles.
Twenty-five years later, Goodman took his band to the Soviet Union on an official United States government mission. The band's 32 concerts were attended by more than 180,000 Soviets, including Premier Nikita Krushchev. Goodman was hailed as a "true poet of the clarinet" by Sovietskaya Kultura, a cultural newspaper.
Goodman was the eighth of 11 children of David and Dora, nee Grinsky, Goodman. He was born on May 30, 1909. His father was a poor tailor, who had emigrated from Warsaw, Poland. The family lived in Chicago. Surviving was always a tremendous struggle for the Goodmans. The Goodmans learned that Kehelah Jacob Synagogue was giving music lessons and lending instruments to the students for only 25 cents a week. Benny and his two older brothers went to the synagogue for lessons. Harry, the oldest, was given a tuba. Freddie got a trumpet. Benny, the smallest and youngest, was given a clarinet.
Goodman learned to play the clarinet so well that he was able to make money by doing imitations of Ted Lewis when he was 12 years old. He played in many Chicago bands. Ben Pollack, a leading band leader in California, asked the 16-year-old Goodman to join his band. He accepted Pollack's offer and went to California. He was with the Pollack band until 1923, when he left to go out on his own.
Goodman had built up a reputation with the recordings that he had made. He ws in great demand and was kept busy as a freelance musician. In 1933, he met John Henry Hammond Jr., a promoter, who was a socially prominent jazz fan and critic. Hammond arranged recording dates for Goodman with some of the outstanding black musicians of the time. In later years, Goodman would be the first white bandleader to have black musicians in his band.
Goodman formed a permanent band in 1934 with the help of Hammond. He had a Saturday night radio program called Let's Dance, which brought him national fame. He started a cross country tour after he finished the radio series. The tour's reception was dismal until he came to the Palomar Ballroom in Los Angeles. Here, the crowd came up to the bandstand to listen and applaud instead of dancing. This event is considered to have marked the beginning of the Swing era.
His success in the popular music field was not enough to satisfy him. He loved classical music and was always performing the classics when he had the opportunity. He commissioned Bela Bartok, Paul Hindemith and Aaron Copland to compose clarinet concertos for him.
Over the years, he found time to make movies. He appeared in The Big Broadcast of 1937, A Song is Born, Powers Girl, Hollywood Hotel and Stage Door Canteen. In 1955, Universal-International produced The Benny Goodman Story.
Goodman had a sellout tour of the Far East in the winter of 1956-57. In the following years, he toured the world with his band as a goodwill ambassador. In 1942, he married Alice Hammond, a sister of John Hammond. They had two daughters, Rachel, a concert pianist, and Benjie. Goodman died on June 13, 1986. He gave the world a rich heritage in music.
---
Sources: This is one of the 150 illustrated true stories of American heroism included in Jewish Heroes & Heroines of America : 150 True Stories of American Jewish Heroism, © 1996, written by Seymour "Sy" Brody of Delray Beach, Florida, illustrated by Art Seiden of Woodmere, New York, and published by Lifetime Books, Inc., Hollywood, FL.