Benjamin Franklin Jonas
(1834 - 1911)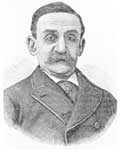 Benjamin Franklin Jonas was born in Williamsport, Kentucky on July 19, 1834. He moved with his parents to Adams County, IL, where he attended the public schools. Jonas moved to New Orleans in 1853 and graduated from the law department of the University of Louisiana at Pineville in 1855. He was admitted to the bar the same year and commenced practice in New Orleans.
In 1862, Jonas enlisted in the Confederate Army and he served throughout the Civil War. He was a member of the State house of representatives from 1865 until 1868. He was elected to the State senate in 1872, but declined to take the seat. He served later as the city attorney of New Orleans (1875-1879) and as member again of the State house of representatives (1876-1877). Jonas was elected as a Democrat to the United States Senate and served from March 4, 1879, to March 3, 1885. He lost his campaign for reelection in 1884 and went home to New Orleans and served as collector of the port (1885-1889), and resumed the practice of law.
Jonas died in New Orleans on December 21, 1911.
---
Sources: Biographical Directory of the United States Congress. Photo U.S. Senate Historical Office.