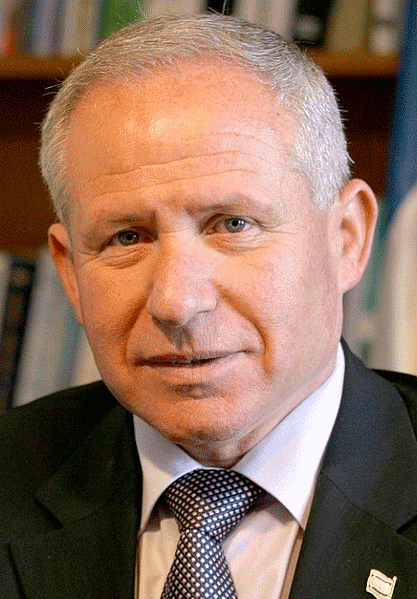 Avi Dichter is an Israeli politician and the current Minister of Home Front Defense. He is a former commando soldier, Minister of Internal Security, and director the Shin Bet.
Dichter (born December 4, 1952) was born in Ashkelon, on Israel's southern Mediterranean coast, to parents who were both survivors of the Holocaust. As a teenager, Dichter joined the Hashomer Hatzair, a Zionist youth movement. After graduating high school, Dicther was drafted into the Israel Defense Forces in 1971 and served in the Sayeret Matkal commando special forces unit of the Israeli Infantry Corps.
In 1974, Dichter joined the Shin Bet, Israel's internal security service, where he began his career as a flight security agent on El Al, the national airline of Israel. In 1976, after learning Arabic, Dichter was stationed as a case officer in the northern Gaza Strip and in 1986 he was appointed as Unit Head in the Southern Command. That same year he completed his undergraduate studies in Social Science at Bar-Ilan University.
In 1996, following the assassination of Prime Minister Yitzhak Rabin that shed light on shortcomings within the Shin Bet, Dichter was appointed as head of the Security and Protection Division and in 1999, he became Deputy Director of the Shin Bet while also earning an MBA from Tel Aviv University.
In 2000, Israeli Prime Minsiter Ehud Barak promoted Dichter to Director of the Shin Bet. Serving in the lead position during the start of the Second Intifada, Dichter restructured the mission of the Shin Bet to serve a t the forefront of Israel's security and counter-terrorism efforts. The organization spearheaded counter-insurgency and intelligence operations deep inside the West Bank and Gaza Strip. In doing so, the Shin Bet is credited with drastically reducing the number of attacks perpetrated against Israel during this time as well as helping to restore safety and positive morale to the Israeli public.
In September 2005, Dichter resigned from the Shin Bet and became a Research Fellow at the Brookings Institute in Washington, DC. Staying for only a few month, Dichter soon returned to Israel, joined the newly created Kadima Political Party, and was elected to the Knesset in 2006. In May 2006, he was appointed Minister of Internal Security by Prime Minister Ehud Olmert.
In 2007, Dichter's name was added to a list of wanted war criminals in the United Kingdom in relation for approving the targeted assassination of Hamas leader Salah Shehade, a bombing which accidentally killed his wife and three children as well.
In 2009, Dichter lost the vote to lead Kadima after the resignation of Olmert, but he was reelected to the Knesset.
In August 2012, the Knesset approved the appointment of Dichter as Home Front Defense Minister after he was unanimously approved for the position by the cabinet of Prime Minister Benjamin Netanyahu. Dichter replaced Matan Vilnai in the position.
---