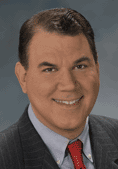 Alan Grayson is a Jewish American politician and currently serves in the U.S. House of Representatives from Florida.
Grayson was born March 13, 1958 in Bronx County, New York. In 2008, he was elected the Democratic Congressman for Florida's 8th District to serve in the 111th Congress. Though he lost his reelection campaign in 2010, he reclaimed his position in the House in 2012.
Prior to his congressional career, Grayson worked in the field of government contracts law representing whistleblowers who witnessed fraud against the government and brought forward False Claims Act cases against fraudulent contractors. After the war in Iraq began, Grayson was the only attorney willing to pursue such cases and was called on by Congress four times to testify about contractor fraud in Iraq. His work earned him recognition by such groups as Taxpayers Against Fraud and Public Justice.
In the early 1990s, Grayson founded and served as the first president of the telecom/internet company IDT Corp.
Grayson also helped to found the organization Alliance for Aging Research for which he has served as an officer for over 20 years. The Alliance has increased federal support for aging research by 500 percent.
After graduating from law school, Grayson worked as a judge's assistant at the D.C. Circuit Court of Appeals. For two years he worked with current U.S. Supreme Court justices Ruth Bader Ginsburg and Antonin Scalia, former U.S. Attorney General Robert Bork, and Judge Abner Mikva.
Grayson graduated in the top two percent of his class from Harvard College. After working as an economist, he returned to receive a law degree from Harvard Law School and earn a master's degree in government from the John F. Kennedy School of Government.
Grayson is married to Lolita Grayson. They live in Orlando, FL and have five children, Skye, Star, Sage, Storm and Stone.
---
Sources: Congressman Alan Grayson, U.S. House of Representatives