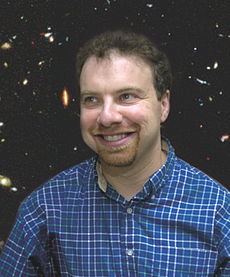 Adam Guy Riess (born December 1969) is a Jewish American astrophysicist at Johns Hopkins University and winner of the 2011 Nobel Prize in Physics.
Riess was born in Washington DC and later moved with his family to New Jersey where he grew up. In 1992, Riess graduated from M.I.T. and four years later he received his Ph.D. in astrophysics from Harvard University. Afterwards Riess became a Miller Fellow at the University of California, Berkeley before moving on to the Space Telescope Science Institute in 1999. He took up his current position at Johns Hopkins University in Baltimore in 2005.
On October 3, 2011, Dr. Riess, together with Australian scientist Brian Schmidt from Australian National University and American scientist Saul Perlmutter from UC Berkeley, were awarded the Nobel Prize in Physics for their study of exploding stars that discovered that the expansion of the universe is accelerating. The discovery of the accelerating universe was named 'Breakthrough of the Year' by Science Magazine in 1998 and the Royal Swedish Academy of Sciences, which hands out the Nobel award, said discovery "has helped to unveil a universe that to a large extent is unknown to science."
U.S. Senator from Maryland, Barbara Mikulski, congratulated Riess, saying in a press release that the prize "recognizes this discovery and highlights how important it is for America to invest in our scientific infrastructure—our talent and the equipment that helps them unlock scientific know-how."
In an editorial, The Baltimore Sun newspaper called the discovery by Riess and his colleagues "a world-changing result comparable to Galileo's discovery."
Over the course of his professional career, Riess has garnered numerous other awards and accolades as well. He received the Astronomical Society of the Pacific's Trumpler Award in 1999 and Harvard University's Bok Prize in 2001. He won the American Astronomical Society's Helen B. Warner Prize in 2003 and the Raymond and Beverly Sackler Prize in 2004 for the discovery of cosmic acceleration. In 2006, he shared the $1 million Shaw Prize in Astronomy with Saul Perlmutter and Brian P. Schmidt for contributions to the discovery of the acceleration of the universe.
---
Sources: CNN, Towson Patch, Johns Hopkins University, Wikipedia