Abd Al-Qader Husseini
(1907 - 1948)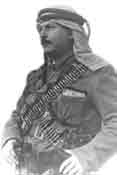 Abd Al-Qader Husseini was born in 1907 in Jerusalem. He was the son of Musa Qassem (Pasha) al-Husseini. A graduate in chemistry from the American University of Cairo, Husseini organized a Congress of Educated Muslims in the early 1930s to fight discrimination against Palestinian Arabs in government services.
He was the founder (1931) and leader of the Al-Jihad Al-Muqaddas (Holy War) organization and led the Palestinian resistance during the Great Revolt of 1936-39 and served as guerilla commander for the Jerusalem district.
He was exiled in 1938, returned secretly to Jerusalem in 1948, and afterward commanded the volunteer force of al-Jihad al-Muqaddas (Holy War Army). He was also a resistance organizer and Palestinian leader during the 1948 war.
He was killed in the battle of Kastel, west of Jerusalem, on April 8, 1948.
---
Source: PASSIA.