---
---
There were a few Jews who lived in Monaco prior to World War II. These Jews were predominately Ashkenazim from France. To save their Jewish citizens from Nazi persecution, the government issued false papers to the Jews during the war.
Map of Monaco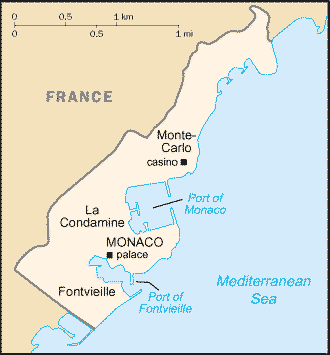 The Jewish community of Monaco was founded in 1948, with the creation of the official representative body, the Association Culturelle Israelite de Monaco. Today, the vast majority of the Jewish community lives in Monte Carlo. The community is mainly comprised of retired Jews from Britain (40%) and North Africa. Approximately 1,000 Jews live today in Monaco. There are also several Turkish and French Ashkenazi families. Half the population is Ashkenazi, while the other half are Sephardic.
The Association Culturelle Israelite de Monaco is a house that has been converted into a synagogue, a community Hebrew school, and kosher food shop, all located in Monte Carlo. The community does have a rabbi, Rabbi M. Isaac Amsellem, who leads weekly services and teaches classes. There are weekly services on Shabbat. Several organizations, including WIZO and B'nai B'rith, are active in the Jewish community of Monaco.
Israel has diplomatic relations with Monaco and is represented by its consul in Marseilles.
Sites & Contacts
Association Culturelle Israelite de Monaco
15 Ave. de la Costa
Balmoral Hotel
Monte Carlo, 98000
Tel. 339-3-300-476, 339-3-301-646
Rabbi M. Isaac Amsellem
4 bd. de Belgique
Tel: 93-30-04-76
Kosher Boucherie Sam M. Sam Amar
2 Ave. Saint Laurent
Tel: 93 30 11 73
Representative Organisations
B'nai B'rith
Tel: 93 16 08 16
---
Sources:
World Jewish Congress
Zaidner, Michael. Jewish Travel Guide 2000. Intl Specialized Book Service, 2000
AmyIsrael
Map Courtesy of the CIA World FactBook.