Arrive at Ben-Gurion
The flight over to Israel is an experience in itself. If you fly El Al, get to the airport early because the security check is more extensive than any you've had before and takes a long time. It's nothing to worry about, mostly questions about what you're going to be doing in Israel, if you have relatives and other seemingly innocuous inquiries that somehow help the security officials spot potential problems.
The trip takes about 11 hours from the East Coast and 15 hours from the West. It is also common to stopover in Paris or London. The flight time from London is 4 1/2 hours.
During the flight you're likely to see Orthodox Jews standing in the aisles praying and, again, if you're on El Al, you'll probably get a peppy film with the sounds and sights of Israel. When your plane touches down, expect a burst of applause that you won't hear for any other destination.
You are now in the Holy Land!!!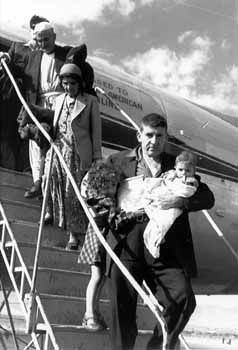 Hundreds of thousands of men, women and children have come to this same spot to escape persecution, to live among their fellow Jews and to fulfill a biblical injunction. The same tarmac you are going to walk across was where the -- Yemenite Jews of Operation Magic Carpet first arrived. It is where the Ethiopian Jews were brought after the dramatic rescues known as Operations Moses, Joshua and Solomon and the site of the jubilant welcome of the hostages rescued at Entebbe. This is also where nearly 800,000 Jews from the former Soviet Union have arrived since 1989.
Israel Fact
In area, Israel is about the size of New Jersey. The population of New Jersey is more than 8 million, compared to 7.1 million in Israel. Roughly 76% of the population is Jewish, 16% are Muslims, 2% Christians and 1.6% Druze. More than half the Jews are sabras, native-born Israelis, the rest come from more than 100 countries.
When you enter the terminal, prepare to show your passport (or visa?). In the old days, before the peace process, many people would ask that their passports not be stamped. The clerk would then simply stamp a piece of paper. The reason for this was the Arab boycott, which called for Arab states to deny entry to anyone with an Israeli stamp in their passport. Today, unless you're planning to visit one of the rejectionist states, such as Syria or Libya, you don't have to worry.
When you pass through the passport station, grab a cart and start looking for your luggage. While you wait, you might want to go to the ATM (which has better rates than the currency exchange office) and withdraw a few shekels. Check out the latest rate. It fluctuates daily, but should be roughly $1 dollar = 4 shekels.
Usually, customs officials will wave you right through, but don't be surprised if you are asked to open up your bags. Checks are sometimes random and are very common. Don't be offended or resist and you'll be on your way quickly.
Chances are you're a bit bleary-eyed from the trip and will have jet lag. You'll hear lots of ideas for how to beat it, but your best bet is to try to get yourself on an Israeli schedule right away. That means staying awake until late evening -- no naps.
And don't sleep on the way into Jerusalem, because the route you are about to take has its own history. Hop on the bus and start your tour.
---