Judaic Treasures of the
Library of Congress:
The Megillah Scroll
---
The Library's Megillat Esther (Esther Scroll) is a Hebrew manuscript of great rarity, unique for its age, size, and calligraphy. Written in the fourteenth or possibly the fifteenth century, it is as early a Megillat Esther as is known. Particularly distinguished is its calligraphy, as majestic Ashkenazi letters as have ever been inscribed. In height of scroll (thirty-two inches) and height of letter (three-fourths of an inch) it is unsurpassed.
Its very size poses a problem. Traditionally, when the Megillah is read in the synagogue, as it is unrolled it is folded so as to look like a letter, to recall the epistle sent by Mordecai "to all the Jews in all the lands ... near and far, to observe ... the days which were turned from mourning to holiday . . ." (Esther IX:22). Not only does the weight of this scroll make it difficult to handle, its size makes it even harder to fold. The large Ashkenazi megillot rarely reach two feet in height, and their letters, generally one-quarter of an inch in height, make for a far shorter scroll which is much lighter and easier to handle than the Library's. Why then a megillah so grand in size?
The size of this megillah scroll, especially the size of the letters, suggests a medieval antiphonary, one of those great liturgical manuscripts of the Middle Ages, whose bold Gothic letters were made large enough for all the choir to see. The church service was pulpit centered; synagogue worship was and is congregation centered. Why not then a megillah with words large enough for all the congregation to see as it was being read, a fulfillment of the blessing which precedes its reading "on the reading of the megillah. " Thus, all the congregation, and especially those individuals who could not afford a megillah of their own, could fully carry out the injunction "to read." The pious creator of this great megillah wrought his work as an expression of gratitude to the Heavenly Father for saving His own Chosen People "in the days of old, in this season." Year after year, a congregation of Jews in the ghetto of some medieval city, or in some isolated Gothic village, found heart and new hope in the tale they read in this, their treasured Esther Scroll.
A megillah scroll (The Book of Esther) is read on the eve and morning of the Festival of Purim. The Library's scroll is unusual for its age, size, and calligraphy; late fourteenth- or early fifteenth-century; thirty-two inches high, its letters three-fourths of an inch; and its calligraphy suggests a Gothic provenance, Central or Southern Germany. One can only surmise how a scroll of such size could have been used comfortably, for it is difficult for an individual to handle. Perhaps it was meant to be read by a group of individuals or an entire small community—the reader intoning, the rest following the text (Hebraic Section, Library of Congress Photo).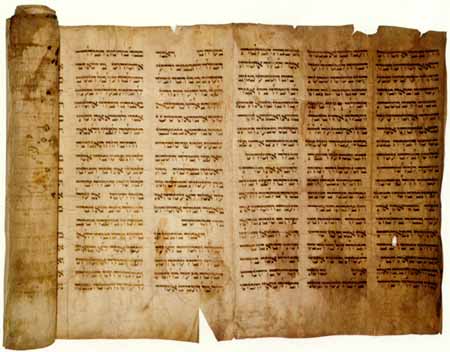 ---
Source: Abraham J. Karp, From the Ends of the Earth: Judaic Treasures of the Library of Congress, (DC: Library of Congress, 1991).