George Simon Kaufman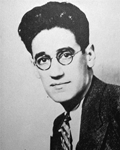 (1889-1961)
---
George Simon Kaufman was a Jewish American playwright and stage director. He was born in Pittsburgh, Pennsylvania, on November 16, 1889.
Kaufman began his career as a journalist, but in 1918 turned to writing for the stage. His name is linked with over 30 hits, almost all his plays having been written in collaboration with others, such as Marc Connelly, Edna Ferber, Morrie Ryskind, and Moss Hart. For each year from 1921 to 1941, Kaufman, as either writer or director, had at least one hit Broadway show. He was an acknowledged master of stage technique and comedy, and plays such as Once in a Lifetime (1930), You Can't Take it With You (1937, Pulitzer Prize), and The Man Who Came to Dinner (1939) have found their way into many anthologies. In 1946 he wrote his dramatic version of The Late George Apley, the novel by J.P. Marquand, an admirable example of his skill in adapting from one artistic medium to another. Kaufman's versatility was shown in the musicals The Coconuts (1925) and Animal Crackers (1928), written for the Marx Brothers; Strike up the Band (1930); The Band Wagon (1931); and Of Thee I Sing (1932, Pulitzer Prize). Perhaps his most serious play, inspired by the prejudices and hatreds of the Hitler era, was The American Way (1939). Other successes by Kaufman include Dinner at Eight (1932), Stage Door (1936), George Washington Slept Here (1940), and The Solid Gold Cadillac (1951). He directed such stage hits as Front Page (1928), Of Mice and Men (1937), and Guys and Dolls (1950). Kaufman's early experience as a columnist and as a dramatic critic on New York newspapers developed his sensitivity to language and the demands of the theater. His plays made exciting entertainment and his satirical flashes poked fun at weaknesses in American life.
Kaufman was married in 1917 to Beatrice Bakrow until her death on October 6, 1945. Four years later, he married actress Leueen MacGrath on May 26, 1949, with whom he collaborated on a number of plays before their divorce in August 1957.
Kaufman died in New York City on June 2, 1961, at the age of 71.
BIBLIOGRAPHY:
J.M. Brown, Broadway in Review (1940), 88–94, 169–76; idem, Seeing Things (1946), 205–11; E.M. Gagey, Revolution in American Drama (1947), 217–20; J. Mersand, Traditions in American Literature (1939), 14–24; A.H. Quinn, History of the American Drama, 2 (1937), 220–5. ADD. BIBLIOGRAPHY: S. Meredith, George S. Kaufman and His Friends (1975).