Yehuda Katz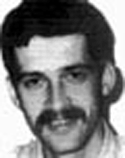 (1956 - )
---
View Full List of IDF Soldiers "Missing in Action" - CLICK HERE
---
On June 11, 1982, in a battle with Palestinian and Syrian forces near the Lebanese village of Sultan Yaqub, five Israeli soldiers went missing, and while two have since been returned to Israel, three others - Zachary Baumel, Yehuda Katz and Zvi Feldman- are still considered missing in action. Since they went missing, Palestinian and Syrian officials have been unhelpful in providing Israel with any information about its missing soldiers.
Katz was born on December 29, 1956 in Ramat Gan to Holocaust survivor parents Yosef and Sarah. After high school, he chose to complete his military service in the Hesder format that allows for religious studies and army duty. Katz spent his time at Yeshivat Kerem Be'yavne and the IDF Armored Corps. His dream was to become a leading Judaic scholar and rabbinic figure.
In 1985, Israeli soldier Chezi Shai, who was also captured in the Sultan Yaqub battle though was returned to Israel in a prisoner exchange, reported that he heard Katz's name mentioned while in captivity. Other than that, nothing else is known about Katz's whereabouts.
Students at his Yeshiva continue to recite a prayer everyday on his behalf and his sister Pirchia named her son Yochai - Yo for Yehuda and chai meaning live in Hebrew.
---
Source: Israel Ministry of Foreign Affairs; International Coalition for Missing Israeli Soldiers